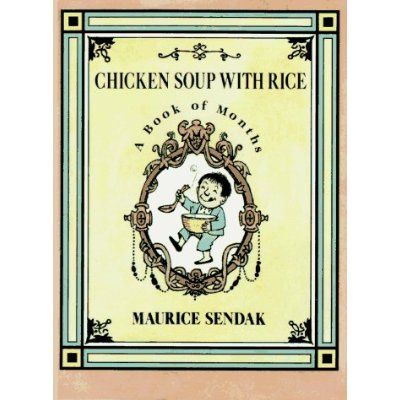 Title: Chicken Soup with Rice: A Book of Months
Author: Maurice Sendak
Reading level: Ages 4-8
Paperback: 32 pages
Publisher: HarperCollins (March 15, 1991)
Language: English
ISBN-10: 006443253X
ISBN-13: 978-0064432535
MY THOUGHTS
Chicken Soup with Rice was a huge favorite in our house when my daughters were young that to this day, whenever I cook chicken soup with rice, verses from this book automatically spew out. So this January when we were actually slipping and sliding on ice for once, I made a huge pot of chicken soup with rice to warm our soul and brough out extra matouk to warm our bodies.
This is a beloved book and if my girls were any indicators, all children love the cadence and rhymes of this story. I personally have always loved the imagery from the illustrations in the book and whenever the words start pouring out, I can almost smell the scent of piping hot chicken soup with rice!
If you're not familiar with the book, just watch the video below and I'm sure you'll be converted in no time.