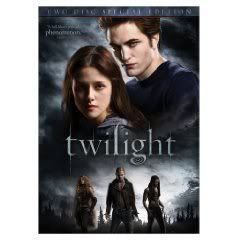 Dare I enter another Twilight contest? Heck yeah! And if you want to win Twilight prizes too, get on over to LoveImpossible.com and sign up for the contest. The deadline is March 1st. You don't have much time!
The prizes offered for this contest are:
1. Twilight (Two-Disc Special Edition) preordered and shipped to your home. OR
2. Choice of any Vampire Romance book on our website shipped to your home. OR
3. Twilight Bella Inspired Swarovski Crystal CLEAR Heart Pewter Wolf Apple Clasp Bracelet courtesy of Jeweled Ambrosia
Go on over and check out the Twilight contest details to learn how you can win one of the great prizes on the list. I for one am hoping to win the DVD!
By the way, I was checking emails this morning and learned that Amazon is offering financing on select netbooks
. That certainly piqued my interest because my daughter will be going off to boarding school by the fall (crossing fingers here) and she will need her own laptop. I think one of these netbooks would work nicely for her purpose and they don't really cost a whole lot. It's amazing how low the prices have gotten on these things.
To get the no interest 6 month financing from Amazon, all you have to do is apply for an Amazon.com store card
, and when you charge the netbooks using your card, you won't have to pay interest for 6 months. Pay it off within that time, and you just got 0% financing on your netbook! Great deal, don't you think?


Check out my Twilight Saga Reviews:
Twilight Movie Review
Breaking Dawn
Twilight
New Moon
Eclipse