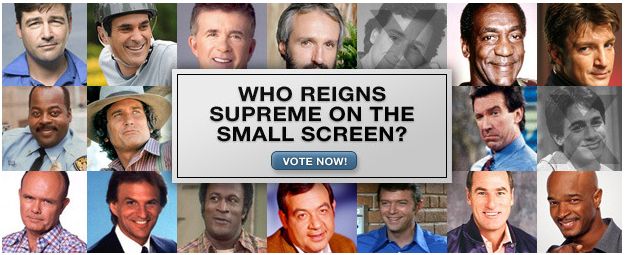 I was a latch key kid. Do you know what that is? I haven't heard the term in a while and I wonder if people still use it? If you've never heard the term before, here is how it is described in Wikipedia:
A latchkey kid or latchkey child is a child who returns from school to an empty home because his or her parent or parents are away at work, or a child who is often left at home with little or no parental supervision.
Anyway, with both parents working, my sisters and I would come home from school to an empty house. The TV was our baby sitter. Although we saw TV families with moms at home who have after-school snacks at the ready, we (my sisters and I) didn't really find it strange that we didn't have a mom who did that.
And although we had wonderful male role models in our father, step-father and grandfathers, we didn't find it strange either that they were so different than all the TV dads we watched on the tube. We realized at a very young age that TV does not necessarily portray real life. Never the less, we were fascinated with all the shows especially sitcoms.

Some of our favorite shows to watch were Good Times, Diff'rent Strokes, Little House on the Prairie, Sanford and Son, The Waltons, and many more. I just mentioned those that I remember with a memorable dad. And of course, who can forget the iconic Cosby's show? But that one came a little later. By the time we started watching the Cosby's we were already almost through high school.
I was thinking about these different TV dads since I heard of this contest on Man of the House. If you're a TV fan, go on over there and vote for your World's Greatest TV Dad. It's kind of cool how they have the contest on a bracket format. Reminded me of a sporting event. lol! I guess it's fitting for a website geared towards dads.
Round one is finished, and round two is now up for votes. Leading the pack are:
Eric Taylor (Friday Night Lights) vs. Mike Brady (The Brady Bunch)
Howard Cunningham (Happy Days) vs. Charles Ingalls (Little House on the Prairie)
Phil Dunphy (Modern Family) vs. Michael Kyle (My Wife and Kids)
Richard Castle (Castle) vs. Tim Taylor (Home Improvement)
I for one am rooting for Charles Ingalls and Tim "the tool man" Taylor for different reasons. Charles Ingalls because if there's a dad that you would wish for your own, he would probably be it. And Tim Taylor is just hillarious! I loved that show. But I don't know if he would be that funny if he really was your dad. lol!
Which TV Dad is your favorite? Go on over to the Manofthehouse.com website and vote for your favorite!
"I wrote this review while participating in a blog tour campaign by Mom Central Consulting on behalf of P&G and received promotional items to thank me for taking the time to participate."