Storm of the i: An Artobiography by Tina Collen – GIVEAWAY
Storm of the i: An Artobiography by Tina Collen – GIVEAWAY
GIVEAWAY: Scroll to the end of this post for a chance to win a copy of this book.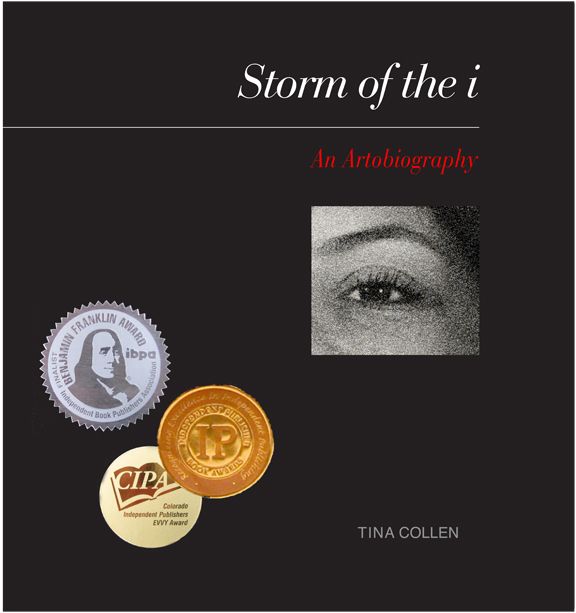 Title: STORM OF THE i: An Artobiography
Author: Tina Collen
ISBN: 978-0-9825241-0-7
Pages: 322 (275 color images, 57 black & white images, spot varnish). Interactive components: 1 lift-up flap, 1 internal cutout, 1 pop-up, a 5-page color foldout, a 15-panel color foldout in an envelope.
ABOUT THE BOOK (from the Press Release)
Her father didn't speak to her for 15 years and she never knew why.
Then she wrote the book she needed to read.

"A project five years in the making," wrote Clay Evans in his review for the Boulder Camera, "Collen's slick, clever, refreshingly unpredictable labor of love is like no other book you're likely to read any time soon." A bit more descriptive, Sara Davidson, novelist, TV producer, and New York Times best-selling author says STORM OF THE i: An Artobiography is "a fabulous hybrid, a memoir that's alive with foldouts, paintings, drawings, a surprising lift-up flap and even a pop-up that hands the reader a fortune cookie with a message inside.

Beneath the playfulness, however, lies the story of an artist trying to understand her father's lifelong anger towards her. At the pinnacle of her career, an exhibition of her work in Paris, Tina Collen finds herself inexplicably weeping. It takes courage to probe a father's lifelong rejection, but Collen has wonderful tools: her humor, memories and the trail of art she created. (I discovered Collen through her Fleurotica collages. At first glance, I thought I was looking at lush paintings of wildflowers, but on closer examination, I was in the world of the Kama Sutra. Based on the idea that flowers are simply sex organs, Collen created her wildflowers from risqué magazine scraps. She took something forbidden and transformed it into something witty, beautiful and acceptable.) In Storm of the i, she takes a heartbreaking story and transforms it into something witty, beautiful— and unforgettable."
ABOUT THE AUTHOR
Tina Collen has been an artist all her life. Educated in graphic design at Pratt Institute, she has designed toys for Mattel and made many other entrepreneurial forays into the commercial world. Her artwork has been exhibited in Paris, Barcelona, Frankfurt and on a year-long tour of museums throughout Germany. In New York City it was shown at The PhotoForum on 5th Avenue and at The Erotics Gallery in SoHo. She lives in Boulder, Colorado by way of Brooklyn, Los Angeles and Aspen.
MY THOUGHTS
How do I even begin to describe a book so unique, I have never seen anything like it before? I loved this book. It feeds all my senses. My sense of curiosity, my sense of yearning for the visual and my sense of rhythm for the written word.
When I get a new book the very first thing I do is to fan through the pages whether it has illustrations or not. When you do this you get a good whiff of that new book smell, you know? I don't know about you, but it just puts me in the mood.
When I did that with this book, when I bent the pages and let them flap open, it immediately sucked me in! It didn't riffle smoothly like other books. The pages are different thicknesses, the pages were full of color. There were inserts, there were pop outs, fold outs, cut outs, you name it. There were paintings, drawings, photography, sketches, scribbles and everything else that you would find cluttering up one's life. Before I even read a work of text, I was already immersed in this book.
You know how it feels when you enter someone's house without their knowledge and you start looking through their stuff and opening drawers and closets and stuff? Well, maybe you don't know how it feels. I'm not in the habit of doing that either. lol! But if I were, if I let loose the total voyeaur in in me and just be as nosy as can be, the things in the Strom of i will be the things that I would be looking for.
When I started reading this book and looking through the memorabilia, it felt like I had walked into Tina Collen's life. I was in her house opening drawers and browsing in closets. I almost felt guilty being privvy to the things I was looking at and reading about. But instead of turning away, she pulls you in. She pulls you in with her stories of her father, her husband, her family, herself. She talks about everything. You feel like her best friend by the time you're done reading this book. You feel like calling her up and chatting like old friends do about the old times.
This is one of those books where when you're done reading, you want to go back and go through it all over again. That's where I'm at now. And the amazing thing is, when you look at all the things inside this book, you realize some of the things unsaid in the story and you see bits and pieces of yourself among the keepsakes. This is the scrapbook/memoir that most of us could only dream of making for ourselves. But before you go pulling all your junk and putting them in a book like she did, you might want to look deeper within first like she had to do. She found the story within, conquered it and pasted it up in the Storm of i.

If you'd like to see a bit more about how Artobiography came into existence  click here.
To purchase a personally autographed copy of Storm of the i go to www.TinaCollen.com and in the comment box include how you'd like it signed. Books are also available at Barnes & Noble, Borders and Amazon. If your favorite bookstore doesn't have it on the shelf they can order it for you. I look forward to hearing from you. Tina
The next stop on Tina's blog tour is Sandra's Book Club at http://sandrasbookclub.blogspot.com/.
GIVEAWAY
The author is giving away an autographed book to one reader who leaves a comment in this post. She will select the most intriguing answer to this question:
Oftentimes the objects we hold onto contain cryptic clues that point towards something deeper about ourselves. Take a look around your house (or your room) at the things with which you have surrounded yourself. Is there anything you are still hanging onto that seems to contain a hidden message for you? What do you think it is?
This giveaway will end at the end of the blog tour on February 11.
For more chances to win, visit these other blogs on the tour and tell them your story.
WEEK 1
1/31/2011 James R. Ament
2/1/2011 Book Fetish
2/2/2011 Found Not Lost
2/3/2011 Sandra's Book Club
2/4/2011 Doing it with Grace
WEEK 2
2/7/2011 Minding Spot
2/8/2011 CIPA Bookshelf
2/9/2011 Faye Quam Heimerl
2/10/2011 Thoughts in Progress
2/11/2011 Linda Lou, Live from Las Vegas
Disclosure: I received a free copy of this book for this candid review. No other compensation was received.