The Ex-Boyfriend's Handbook by Matt Dunn
The Ex-Boyfriend's Handbook by Matt Dunn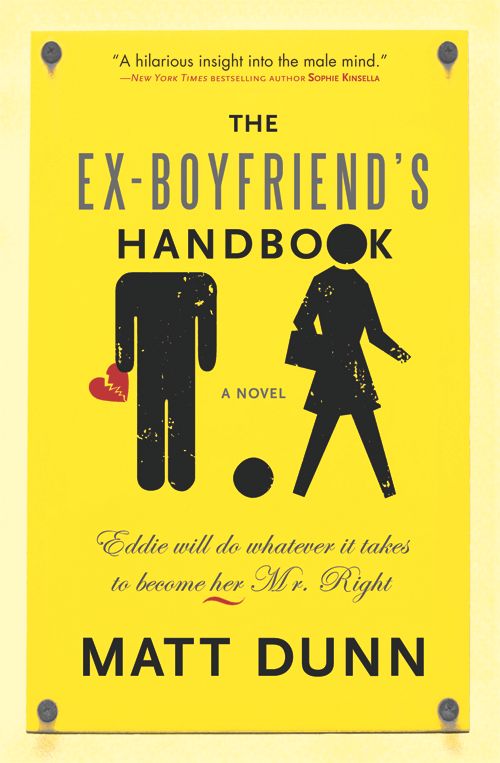 Title: Ex-Boyfriend's Handbook
By: Matt Dunn
ISBN: 9781402243455
ISBN-10: 1402243456
ISBN-13: 978-1402243455
Paperback: 368 pages
Publisher: Sourcebooks Landmark (November 1, 2010)
ABOUT THE BOOK
"It's not me…it's you.

And with that, Edward Middleton's girlfriend of ten years, Jane, is off to Tibet for three months leaving behind nothing but the bathroom scale (which she recommends for use other than stacking old newspapers on) and a note that reads in part, "You've let yourself go, so I'm letting you go too."

So begins The Ex-Boyfriend's Handbook by Matt Dunn.

First published in the UK in 2006 with more than 100,000 copies sold to date, The Ex-Boyfriend's Handbook chronicles Edward's journey to transform himself from Cuddly Teddy into Sexy Eddy in a Bridget Jones diary-style format. With the help of his Z-list TV celeb friend Dan, Edward finds himself exploring everything from Atkins to Botox, speed dating to waxing, in his quest to become Mr. Right.

"I've seen the crazy lengths my friends have gone to for love, and even done some pretty foolish things myself," Dunn said. "That's really what inspired me to write it. If you're a woman, you might learn what us men really think about life, love, relationships, and the 'opposite' sex. If you're a guy, you'll probably cringe with embarrassment as you recognize that there's more than a little bit of Edward in us all."

The Ex-Boyfriend's Handbook was shortlisted for the Romantic Novel of the Year Award, as well as the Melissa Nathan Award for Comedy Romance.
ABOUT THE AUTHOR
Matt Dunn has written about life, love, and relationships for the Times, Guardian, The Sun, and a number of magazines, including Company, Cosmopolitan, Elle, Glamour, and Scarlet.

Previously Matt worked as a professional lifeguard, fitness-equipment salesman, and an I.T. headhunter, where his success in rewriting other people's resumes made him think he might have a talent for fiction.

He divides his time between London and Spain, plays a lot of tennis, and is hard at work on his sixth novel.

For more information, please visit http://www.mattdunn.co.uk/.
MY THOUGHTS
The Ex-Boyfriend's Handbook is one guy's view of getting dumped and it's an enlightening and hilarious view. Edward's girlfriend leaves him in the worst possible way, by simply moving out of their flat without warning, taking more than half of his life with her. The worst part is, she didn't even bother to let him off easy, she flatly says it's his fault! That he had let himself go and there was nothing left to entice her to stay. Harsh, eh?
Well Edward goes on a mission to win her back, aided by his motley band of friends and goes from an over weight, complacent under achiever to someone who could make women do a double turn. Before he gets there though, he goes through a gauntlet of trials in order to remake himself. He probably could have taken the easy way and used Lipofuze or some other super diet pill, but he would not have gained the insights he did while going through the rigors of shedding the weight. Along with the pounds, he also sheds some baggage that have been weighing him down in the process. It's a revealing journey.
I read this book simultaneously with Eat, Pray, Love. It wasn't by design. It was just a matter of chance. Eat, Pray, Love arrived from Paperback Swap just days before The Ex-Boyfriend's Handbook, and it was actually a happy coincidence. I enjoyed going back and forth between the two books; it was like looking at both sides of the same coin.
The journey of self discovery taken by both Edward in The Ex-Boyfriend's Handbook and Elizabeth of Eat, Pray, Love is a wonder to behold. It's inspirational and also a very amusing read. It's funny how you see yourself in some of the situations. I did, anyway. It was one of those things that while you were in the midst of it, it seemed to be the most dramatic and devastating event then on hindsight, you realize it was actually kind of funny!