Désirée by Annemarie Selinko
Désirée by Annemarie Selinko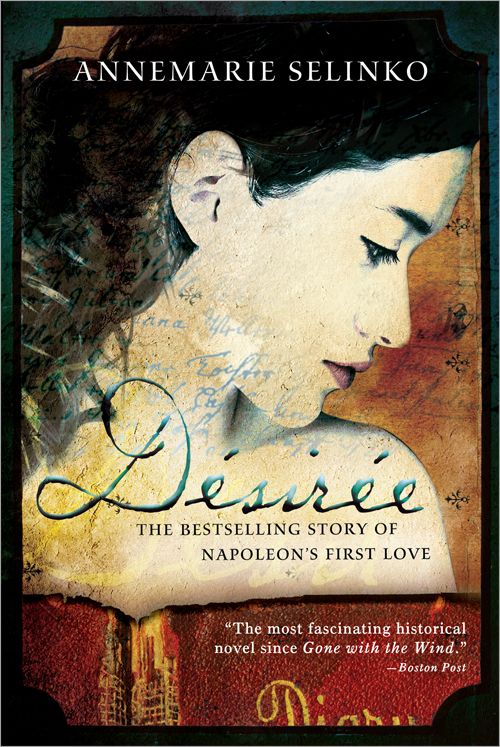 Title: Désirée
Author: Annemarie Selinko
Product ISBN: 9781402244025
Publication Date: October 2010
Pages: 512
ABOUT THE BOOK
To be young, in France, and in love: fourteen year old Desiree can't believe her good fortune. Her fiance, a dashing and ambitious Napoleon Bonaparte, is poised for battlefield success, and no longer will she be just a French merchant's daughter. She could not have known the twisting path her role in history would take, nearly breaking her vibrant heart but sweeping her to a life rich in passion and desire.

A love story, but so much more, Désirée explores the landscape of a young heart torn in two, giving readers a compelling true story of an ordinary girl whose unlikely brush with history leads to a throne no one would have expected.

An epic bestseller that has earned both critical acclaim and mass adoration, Désirée is at once a novel of the rise and fall of empires, the blush and fade of love, and the heart and soul of a woman.

ABOUT THE AUTHOR
Annemarie Selinko (September 1, 1914 – July 28, 1986) was an Austrian novelist who wrote a number of best-selling books in German from the 1930s through the 1950s. Although she had been based in Germany, in 1939 at the start of World War II she took refuge in Denmark with her Danish husband, but then in 1943, they again became refugees, this time to Sweden.

Many of her novels have been adapted into movies and all have been translated into numerous languages. Her last work Désirée (1951) was about Désirée Clary, one of Napoleon's lovers and, later, a queen of Sweden. It has been translated into 25 languages and in 1956 was turned into a movie with Marlon Brando and Jean Simmons. It is dedicated to her sister Liselotte, who was murdered by the Nazis.
MY THOUGHTS
When I first received the offer to review this book, the introduction started with:
"…anyone who'e ever been in love with the the wrong person can identify with this"
Well they got my attention immediately with that one line. Who couldn't identify with being in love with the wrong person? Very few.
This story is based on the real story of a very young Bernardine Eugénie Désirée Clary, the daughter of a silk merchant, who falls in love with a poor and ambitious young general named Napoleon Bonaparte only to lose him later to someone who could better advance his career, Josephine. One of the most dramatic scenes, but also the most pivotal, in this book is when Désirée discovers that Napoleon is engaged to marry Josephine. It is heartbreaking. You can feel it. Ironically, it is during this exact moment that she meets the man she will eventually marry.
The book is an epic tale of how Napoleon's and Désirée's lives intertwine amidst the intricacies of his rise to power, the Napoleonic Wars and the loves, hearbreaks and triumphs that come with living life. The novel is full of colorful characters that will intrigue you and make you want to keep turning pages just to see what happens next.
This book certainly captivated me. It kept me up late and gave me dark circles under my eyes (I'm exaggerating) but I could not put it down! I kept rooting for Désirée and kept wishing ill will against Napoleon. lol! Of course I knew he would eventually get his comeuppance but still, it was fun to see him go down after the way he treated her. He did have his moments though, when he let out some of the tender feelings he still must have felt for the girl he left behind. The final triumph was all Désirée's though. You couldn't help but fall in love with Jean Baptiste Bernadotte who she was married to and who eventually became King of Sweden and Norway, making her queen. It's not what he became that made him so lovable, it was that he loved her unconditionally and took care of her. It makes every girl wish for a man who would love her that way.
This book is a reprint of a novel originally written in German and translated into English. You can learn more about previous versions, the movie and the author from this site: http://www.nebula5.org/clary/book.html If you love historical romances as much as I do, I think you will be there a while. While there, you can also learn more about Bernardine Eugénie Désirée Clary, the real person and what became of her descendants.
I received an advanced review copy of this book from Sourcebooks. No other compensation was provided for this review.