Poisoned Kisses by Stephanie Draven
Poisoned Kisses by Stephanie Draven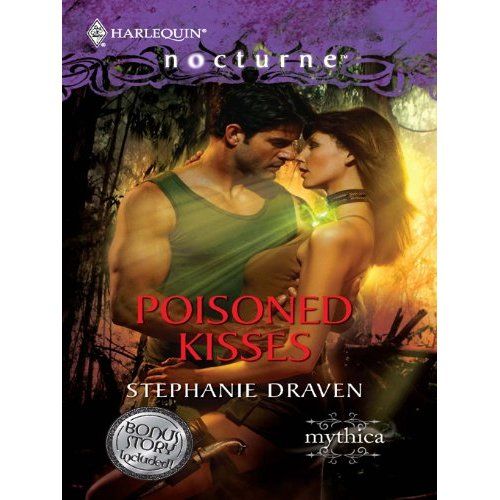 Title: Poisoned Kisses
Author: Stephanie Draven
Mass Market Paperback: 288 pages
Publisher: Harlequin; Reprint edition (October 1, 2010)
ISBN-10: 037361845X
ISBN-13: 978-0373618453
ABOUT THE BOOK
Daughter of the war god Ares, Kyra had been born into darkness—a darkness she'd vowed to annihilate. Just as she'd destroy the notorious Greek arms dealer Marco Kaisiris for feeding the bloodlust she despised. She'd use her nymph's carnal powers to seduce him, then slay him. But Kyra wasn't prepared for Marco's secret weapon.
For millennia Kyra had avoided mortal men, but she couldn't resist Marco's magnetism, his raw sexuality. Time and again his sculpted body took her to heights to which only the gods soared. That he was a shape-shifting hydra she could forgive, but not his one fatal flaw—his poisoned blood could kill her. Kyra had fallen for the only being who could destroy her…. Yet how could she spend eternity without him?

ABOUT THE AUTHOR
Stephanie Draven is currently a denizen of Baltimore, that city of ravens and purple night skies. She lives there with her favorite nocturnal creatures-three scheming cats and a deliciously wicked husband. And when she is not busy with dark domestic rituals, she writes her books.

Stephanie has always been a storyteller. In elementary school, she channeled Scheherazade, weaving a series of stories to charm children into sitting with her each day at the lunch table. When she was a little older, Stephanie scared all the girls at her sleepovers with ghost stories.

She should have known she was born to hold an audience in her thrall, but Stephanie resisted her writerly urges and graduated from college with a B.A. in Government. Then she went to Law School, where she learned how to convincingly tell the tallest tales of all!
MY THOUGHTS
It has been years since I read a Harlequin book. My sister and I used to read tons of them! But as I got older, I kind of got away from reading Harlequin romances. So it was nice to get a chance to read one for this review. Boy, was I surprised! This is not the Harlequin I knew. LOL!
For one, this book is a lot racier and edgier than the tame romance novels I remember. The heroine is definitely not the damsel in distress and the hero is no prince charming. They are both kick ass characters and the story plot, setting and supporting characters can all stand on their own. I read this book in one sitting, one warm Saturday afternoon spent under the shade of the crepe myrtle tree in the backyard. It was a very pleasant way to spend the afternoon, immersed in the fantasy of supernaturals and romance.
I was glad to see on the author's note about the book that she had based some of her ideas on Neil Gaiman's American Gods because that's the book that immediately came to my mind as I read through this book. I have always liked that premise, that gods walk among us. Ms. Draven capitalized on the idea nicely on this book. Now I'm curious to read other Harlequin books. I saw one on the author's website that piqued my interest.
Stay tuned for a guest post from the author, Stephanie Draven.
I received a free copy of this book to review. No other compensation was provided.