Oxy Clinical Clearing System
Oxy Clinical Clearing System
I have a house full of teenage girls. I dont' know if you realize the significance of that one statement but if you are clueless as to the magnitude of having a house full of teen age girls mean, you are welcome to call my husband so he can give you his view. We have so much drama, we may as well start charging admission to our house. But then, who would want to pay to watch daily whines and hormone fluctuations?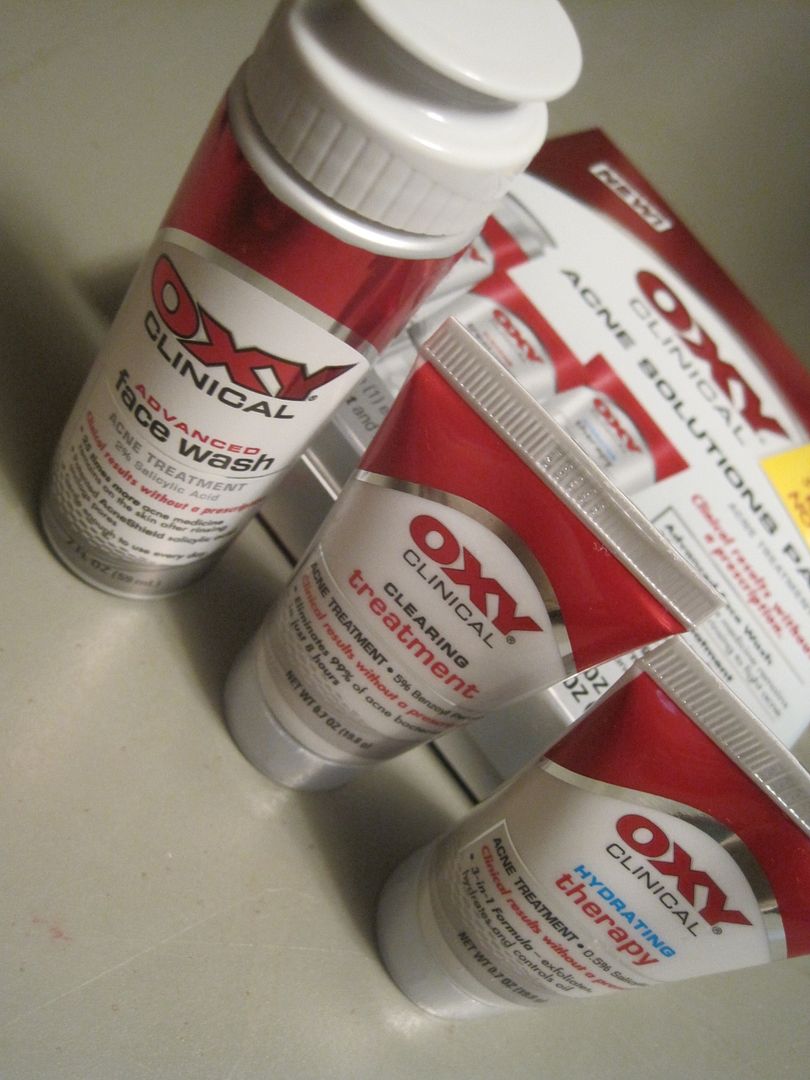 Something as miniscule as a zit can trigger a meltdown. So can you imagine if an acne breakout ever occurs? Luckily, I was blessed with good genes and I have never had any problems with acne, just some minor pimple incidents. My sisters in law, however, were not so blessed and have the scars to show for it. So enter my daughters who carry both traits and they don't know what they're going to get. Well, for one daughter, I think she already knows. So when the opportunity to test Oxy Clinical, I immediately thought of her and she was more than glad to test it out. She's been using another treatment product but she was game to try this one out. So she immediately set aside the one she's been using and started using the Oxy Clinical.
The OXY® Clinical Clearing Treatment claims to kill acne causing bacteria as well as some prescription acne medications and it claims to be able to eliminate these bacterias in just 8 hours. The treatment system is designed to keep the medication on your skin to fight acne longer and the hydrating therapy included will keep your skin moist while keeping oil down.

There are three components for the OXY® Clinical Clearing Treatment:
•Advanced Face Wash with patented AcneShield salicylic acid technology
•Clearing Treatment with patented OXYSphere™ micro-encapsulated benzoyl peroxide technology
•Hydrating Therapy with patented Poly-Pore® Technology
Here is the skincare regimen she is currently following using OXY® Clinical Clearing Treatment:
Daily cleansing – twice a day if possible. She cleanses in the morning and at night.
Treat Acne – she uses the clearing treatment only on the problem areas like her forehead and only at night when she's getting ready for bed.
Moisturize Daily – the OXY website recommended to only moisturize at night to start. So she has been doing this.
She has been using OXY for about a week now and so far, so good. No major breakouts so far and she said it seems like the ones that were there before are going away faster and fading. But then, like all treatment systems, only time will tell how effective it really is. In the meantime though, my daughter is happy with the result and says she will continue with the routine.
"I wrote this review while participating in a blog campaign by Mom Central on behalf of Oxy Clinical and received a sample to facilitate my candid review. Mom Central sent me a gift card to thank me for taking the time to participate."