One Season of Sunshine by Julia London
One Season of Sunshine by Julia London
THIS IS A GUEST BLOG POST FROM JULIA LONDON, AUTHOR OF ONE SEASON OF SUNSHINE
"…our past is our present and our future, that we are all pieces of our past and our loves."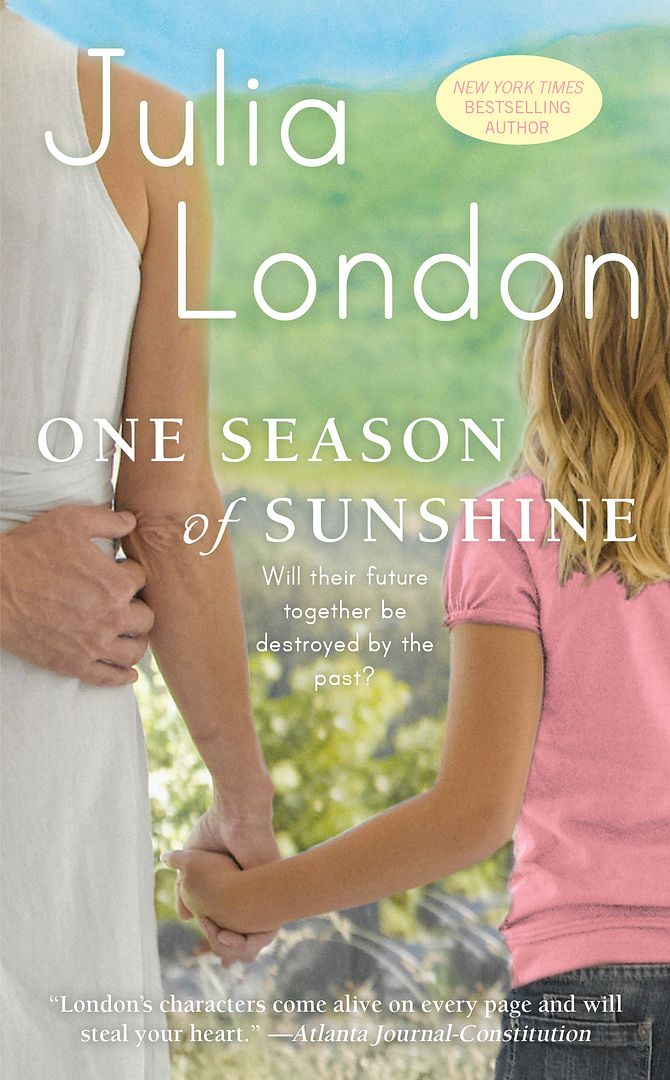 This book is about Jane, who goes in search of her birth mother. She takes a job as a nanny for the widower Asher and his two children. She begins to fall for Asher and the kids, but as things heat up, devastating secrets begin to emerge that not only threaten the happiness Jane has found, but her search for herself as well.

I began with the idea of having a woman search for her birthmother, but Jane evolved into a more complex woman than I think I had originally intended. I didn't want her to be a clichéd orphan looking for happiness. I wanted her to come from a big, loving, family to make her internal conflict that much more compelling. Her mother is a woman who has a lot of love to give, and she, along with the rest of Jane's family, loves her every bit as much as if she'd given birth to her. She reminds me of a friend of mine who is in the process of adopting a child from China. She already loves that little girl and she's never even touched her. I think some people are just wired to give love to children.

But it's no small thing to take in children that are not your own. Having an infant is one thing—it's impossible not to love something that is so dependent on you for care. But there are lots of stepmoms out there who will surely agree that loving children they did not give birth to or have as an infant can at times, be daunting. I am one of those women. So is Jane. She takes on two children who are less than kind to her, but she, like many stepmoms, including me, finds her way to loving them nonetheless.

Jane learns a lot about herself in the course of her search, and I learned a lot from her journey, too—such as what Jane really wanted from life, the meaning of "mother," and the many different ways families come together.

I really hope you enjoy the book. I invite you to visit http://www.julialondon.com to read more about me, an excerpt, and sign up for prizes. Thanks so much for having me here today!
MY THOUGHTS
This book was more than just a great story by a great story teller, it is also a book that made me think about how we see ourselves and how everything in our lives are intertwined within itself and with others on this earth. We are all connected and the need to know those connections is a driving force in our desire to learn more about ourselves.
I received a complimentary copy of this book from the publisher, Simon & Schuster, for this review and blog post. No other compensation was received.