The Gift of An Ordinary Day
The Gift of An Ordinary Day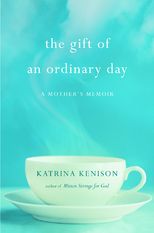 THE GIFT OF AN ORDINARY DAY
By Katrina Kenison
Category: BIOGRAPHY & AUTOBIOGRAPHY
Format: HARDCOVER BOOK
Publish Date: 9/7/2009
ISBN: 9780446409483
Pages: 320
SUMMARY:
Nothing summarizes a book better than hearing an excerpt. Listen to this reading by the author and realize how beautifully written this book is.


ABOUT THE AUTHOR:
Katrina Kenison has been the annual editor of The Best American Short Stories since 1990. Along with John Updike, she edited The Best American Short Stories of the Century, a New York Times bestseller. Also the coeditor of Mothers: Twenty Stories of Contemporary Motherhood, she has written essays that have appeared in such publications as Redbook and Ladies' Home Journal. Katrina Kenison lives outside of Boston with her husband and their two sons.
MY THOUGHTS:
That passage about reaching out to hold a hand that felt so comfortable for so long and finding that its no longer there resonated strongly with me. That's where I am at right now. This book parallels my life so perfectly at this time that if feels like someone has been looking over my life and wrote it down. Only they wrote it down so much better than I could ever have.
If motherhood teaches us something, it's that we can't change our children, we can only change ourselves.
We tend to mark milestones in our lives and our kid's lives by the 'big' events like birthdays and graduations. We sometimes forget that the most lasting memories are the ones that happen on the ordinary days of just going about our daily living. The times when we're all cooking together in the kitchen or gathered around entertainment centers to watch a favorite movie or just taking a walk outdoors after being cooped up in the house after a snow storm, those moments are the ones that make the most impact in our lives and end up being most memorable. That's what this book reminds us, and it reminds us to appreciate those days now before they are gone.
Visit the author's website for more information about this book: http://www.katrinakenison.com/

I received a free copy of this book to review from Hachette Book Groups without obligations for a positive review or other compensation.