What Matters Most by Melody Carlson
What Matters Most by Melody Carlson
This book is part of three Fun Fall Reads sponsored by Random House Books so stay tuned for two more reviews: Leaving Carolina by Tamara Leigh and Limelight by Melody Carlson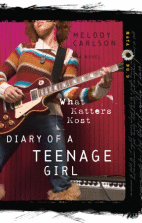 Title: What Matters Most
Author: Melody Carlson
Release Date: Sep 15, 2009
ISBN: 9781601421197
Summary:
Maya's Green Tip for the Day: Recycled fashion is one of the most fun ways to go green. A pair of jeans could be transformed into a denim skirt. A sweater into a vest. A bunch of old ties into a dress. A blanket into a poncho. Accessorize it in new way–with beads, buttons, appliqués, buckles, stencils, or ribbons…your imagination is only the limit. (65 words)

Sixteen-year-old Maya Stark has a lot to sort through. She could graduate from high school early if she wants to. She's considering it, especially when popular cheerleader Vanessa Hartman decides to make her life miserable–and Maya's ex-boyfriend Dominic gets the wrong idea about everything.

To complicate matters even more, Maya's mother will be released from prison soon, and she'll want Maya to live with her again. That's a disaster waiting to happen. And when Maya plays her dad's old acoustic guitar in front of an audience, she discovers talents and opportunities she never expected. Faced with new options, Maya must choose between a "normal" life and a glamorous one. Ultimately, she has to figure out what matters most.

About the Author
Melody Carlson has published over ninety books for adults, children, and teens, with sales totaling more than two million and many titles appearing on the ECPA Bestsellers List. Several of her books have been finalists for, and winners of, various writing awards, including the Gold Medallion and the RITA Award.
My Thoughts
Melody Carlson is one prolific author! she has books for adults, children and teens. What Matters Most is written for teens but it can be enjoyed but us over grown teenagers too. I have always read my daughters' YA novels so it was not new for me to read a novel geared towards teens. One thing that I learned while reading this book is that sometimes we don't give our teenagers enough credit for what they can handle and how they handle them. Sure, it's expected that they will mess up at some point, that they will be influenced by their peers, that they may struggle with the pressures in life. But we don't often think that they will have the maturity or common sense to make sensible decisions that are right for them.
Maya Stark is a very smart girl who seems to have her head squarely in her shoulder; but she gets pulled into typical teenage situations and it's interesting to read her thoughts on how she processes events and people. I think this would be a great book for any teenager but especially teen girls like mine. In addition to having a peek at this teenager's mind, at the end of each chapter in this book is a 'green tip'. One of Maya's passion is the environment so she does not hesitate to remind you to think about your surroundings everyday. Every little thing you do, even the miniscule act of taking the caps off your water bottle before tossing it into the recycling bin, can add up and when everyone does one little thing everyday, then we're a day closer to having a cleaner and more sustainable planet.
So what matters most? Is it the boyfriend? the girlfriends? the parents? the environment? They all matter. It's how you deal with them that matters most.
Waterbrook Multnomah Publishing, a division of Random House, provided the review copy of this book free of charge.