Sins of the Flesh by Caridad Pineiro – Giveaway
Sins of the Flesh by Caridad Pineiro – Giveaway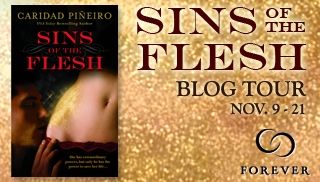 Title: Sins of the Flesh
Author: Caridad Piñeiro
Category: Fiction
Publish Date: 11/1/2009
ISBN: 9780446543835
Pages: 336
About the Book
Caterina Shaw's days are numbered. Her only chance for survival is a highly experimental gene treatment-a risk she willingly takes. But now Caterina barely recognizes herself. She has new, terrifying powers, an exotic, arresting body-and she's been accused of a savage murder, sending her on the run.

Mick Carrera is a mercenary and an expert at capturing elusive, clever prey. Yet the woman he's hunting down is far from the vicious killer he's been told to expect: Caterina is wounded, vulnerable, and a startling mystery of medical science. Even more, she's a beautiful woman whose innocent sensuality tempts Mick to show her exactly how thrilling pleasure can be. The heat that builds between them is irresistible, but surrendering to it could kill them both . . . for a dangerous group is plotting its next move using Caterina as its deadly pawn.
My Thoughts:
I loved this book because again, it crosses my love for sci-fi and romance. The hero is also tall, dark and handsome just like I like them, so from the get-go this book had a lot going for it. Aside from the hunk of a hero and a sexy and talented heroine, this book also had a lot of well researched science woven throughout the story.
This book is promoted for its erotic appeal like most romance novels but the appeal for me in this case was the story. Not that it didn't have some steamy scenes, mind you. The mystery of who really committed the murder that the heroine, Caterina is accused of and the snippets of the science behind the mystery, all told in the easy to read prose is what makes this book appealing for me. It intrigued me how this author researched all the background information. So I thought I'd ask her and guess what, she answered! I do just love authors who interact with their readers and Caridad is very generous with her time and graciously answered with the following post. I know you will enjoy reading more about the author and how a story is developed as much as I did. (Giveaway details at the end of this post)
AUTHOR'S GUEST POST:
One of the questions that so many readers have been asking is: "What inspired you to pick genetic engineering for this book and how did you research it?"

The "what inspired me" is easy to answer – I love science. I have loved it since I was a little kid and got a chemistry kit for Christmas.

It's not even the first time that I've included science in my novels, from some early contemporary romances where the protagonists were working on mapping the human genome to my vampire novels where I've tried to formulate a rationale based on cell lines for the powers that vampires have.
But in SINS OF THE FLESH, science plays a major role in the story line thanks to the non-human genes illegally transplanted into the heroine. Which leads to the second part of the question, namely, how did I research it?

For starters, I was a science major in college and took quite a number of classes, including ones like embryology, immunology, biochemistry and genetics. In those classes we learned about all the different mechanisms and ways that humans functioned and also, how they could be altered. We even did so in embryology class, shifting around developing cells in order to change the physical development of particular organisms.

In the years since graduation, my interest in particular topics, such as genetics, kept me reading articles and following news stories on what was happening in that particular field. It's actually hard not to keep up if you think about. The topic of genetically modified organisms is one that is often in the news lately as the debate rages about whether such GMOs as they are known belong in our food chains.

Caterina Shaw, the heroine in SINS OF THE FLESH, is what some might call the ultimate GMO – a genetically modified human.

So how did I go about creating what would happen to Caterina?
For starters, I refreshed my understanding of techniques used to replicate and splice DNA by reading up on these techniques online and checking out how they had improved in the years since college. I also researched the different kinds of DNA tests that were being used so that when Caterina's DNA is tested, I could accurately describe the results.

For the bigger picture, namely, what do those genes do, there was some fiction involved, in particular with Caterina's skin changing abilities. The introduction of chameleon genes and their incorporation into her skin was pure fiction. But the glowing and glitter was all real science! Scientists use markers called fluorescent proteins to trace where genes are expressing (meaning, the genes are incorporated and undertaking some action).

I read about these GFPs (green fluorescent proteins) and their uses in things from glowing fish for environmental testing to glowing cats and mice. Did you know you can buy such glowing fish in some stores and online (glofish.com)? Did you know that the Nobel Prize in Chemistry was recently awarded to the scientists who created these GFPs?

To make sure I was getting the science and actions right, I had an inside source – a graduate student who is studying gene expression. I ran by my fictional genetic engineering and GFP questions by her to make sure that what I was creating seemed accurate and luckily it was!

I hope you've enjoyed this behind the scenes look at the research and science that helped produced SINS OF THE FLESH.
Learn more about Caridad Pineiro and her books from her website, http://www.caridad.com/. To purchase her book, visit the Hachette website for a list of retailers.
OR, you can sign up here to win a FREE copy of Sins of the Flesh!
WIN THE BOOK!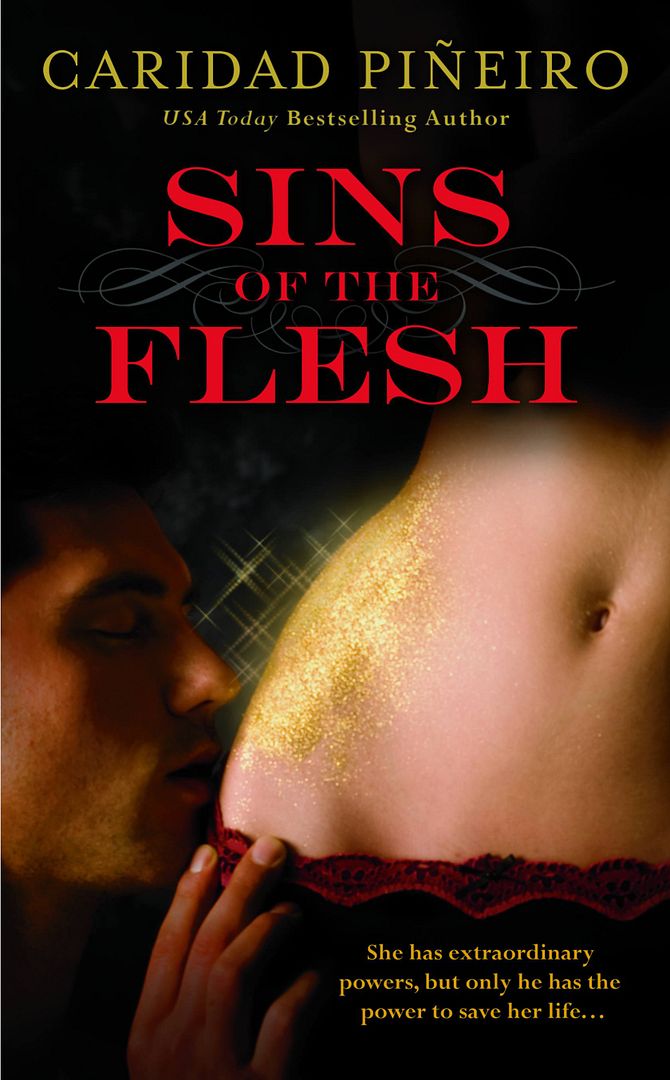 Contest Duration: November 17-December 2, 2009
Prize: Five copies of this book will be awarded
To be eligible for the drawing, here's what you have to do to enter:
1. Leave me a comment with your answer to this question: If it could save your life, would you subject yourself to experimental treatment as the heroine, Caterina, did in this novel?
2. Gain additional entries by sharing this contest in any social media (e.g. facebook, digg, reddit, StumbleUpon, delicious, etc) . Just come back and let me know or leave the url where your shared it. (one entry per site you share it at)
3. Follow me on Twitter
4. You can also win one entry each day you share this giveaway on Twitter. Just copy and paste the text below, tweet it and come back and leave the URL of your tweet.
WIN! Sins of the Flesh by Caridad Pineiro on @JMom http://bit.ly/3MO0Me
There is also the 'Share This' and 'retweet' button at the end of this post for your convenience.
5. Follow this blog on Networked Blogs
6. Subscribe to this blog via reader or email (option to subscribe on top right of this page).
7. Blog about this giveaway and win three (3) additional entries to the giveaway. Make sure you leave the URL to your post three times. (It would make tallying the winner faster and I thank you in advance)
Restrictions:
– The publisher, Hachette Books, will be sending out the books directly to the winners therefore,
– Only residents of the U.S. or Canada are eligible to win and
– No P.O. Boxes
This contest will end on December 2, 2009
Visit other blogs participating in the blog tour:
Drey's Library – Nov. 9 Review, Giveaway, and guest post.
My Book Addiction and More – Nov. 9 Review, Giveaway, and guest post
Just Another New Blog – Nov. 9 Giveaway and guest post
Bridget 3420 – Nov. 10 Review, Giveaway
A Book Blogger's Diary – Nov. 10 Giveaway and guest post
Ree's Space – Nov. 11 Review, Giveaway
Book Soulmates – Nov. 11 Review, Giveaway
Minding Spot – Nov. 12 Review, Giveaway, and guest blog
Froggaritaville's Bookcase – Nov. 12 Review, Giveaway, and Q&A
Parajunkee – Nov. 13 Review, Giveaway
Bookwormy Girl – Nov. 16 Review, Giveaway
Found Not Lost – Nov. 16 Giveaway and guest post
Razlovers Bookblog – Nov. 17 Review, Giveaway
Confessions of a Romance Book Addict – Nov. 18 Review, Giveaway, and Q&A
Cindy's Love of Books – Nov. 19
Cheeky Reads – Nov. 19 Guest blog
My Foolish Wisdom – Nov. 20 Review, giveaway, and Q&A
Morbid Romantic – Nov. 20 Giveaway
Starting Fresh – Nov. 21 Review, Giveaway
Manda Blogs About – Nov. 21 Review, Giveaway, and guest post
My Overstuffed Bookshelf – Nov. 22 Review, Giveaway
JuniperrBreeze Nov. 22 Review
Hachette Book Group provided a free copy of the book for this review and will fulfill the giveaway copies to the winners.