Angels by Chuck Fisher
Angels by Chuck Fisher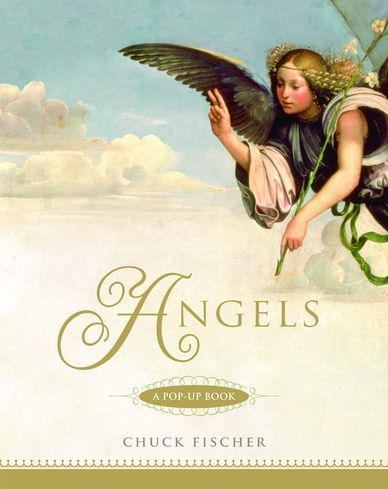 Title: Angels – A Pop-Up Book
Author: Chuck Fischer
Format: HARDCOVER BOOK
Publish Date: 10/19/2009
ISBN: 9780316039703
Pages: 18
Summary:
Whether you consider angels to be divine messengers, spiritual guides, or the stuff of legend, you will find something to marvel at in Chuck Fischer's beautifully illustrated Angels: A Pop-Up Book. Fischer's original art, inspired by classic images from art history, is crafted into astoundingly intricate three-dimensional pop-ups with fold-outs and moveable parts. Angels brings to life the most captivating stories of these celestial beings, from the angels of the zodiac to Biblical angels to angels in the arts and popular culture. Much like its subject, Angels: A Pop-Up Book inspires awe and wonder and is a unique gift book for all ages.

About the Author
Chuck Fischer's paintings hang in some of the finest residences in the world. His designs have been reproduced on holiday ornaments and home furnishings, including wallpaper and fabrics in the permanent collection of the Cooper-Hewitt Museum. He is the author of five previous pop-up books–The White House, Great American Houses and Gardens, Christmas in New York, Christmas Around the World, and the forthcoming In The Beginning. He lives in New York and Florida.
My Thoughts
I love to read but my second love is art. So when art and books collide, you know that immediately catapults me into heaven! What better way to reach heaven than this beautifully crafted book. Pop up books have always fascinated me and my children had a bunch of them when they were growing up because I am just immediately drawn to anything that pops up!
So how perfect can it be to have great artwork turned into a pop up book? It is fanciful at best and whimsical at the same time. This would make a great present for Christmas.
I am having a hard time describing how beautiful this book really is so maybe you should watch this video instead:
AngelsChuckFischer.flv&titleCard=&
Want a copy of the book? Thanks to Anna Balasi at Hachette Books, who also provided me with a review copy, one reader can win a copy of this book.
 
 
WIN THIS BOOK!
Contest Duration: November 2-15, 2009
Prize: A copy of Angels by Chuck Fisher, courtesy of Hachette Book Group
To enter, comment: Leave me a comment answering the author's question: Why do you like or don't like pop up books?
EXTRA ENTRIES
1. After leaving your answer in the comment section, you can gain additional entries by sharing this contest in any social media (e.g. twitter, facebook, digg, reddit, etc) or directory . Just come back and let me know or leave the url where your shared it. You can also win one entry each day you share it on Twitter. Just copy and paste the text below:
A pop up book about Angerls! Win it @JMom http://bit.ly/2K0nNy
There is also the 'Share This' and 'retweet' button at the end of this post for your convenience.
2. Blog about this giveaway and win three (3) additional entries to the giveaway. Make sure you leave the URL to your post. Please post 3 comments for this so it makes it easier for me when picking the winner. If you forget, that's ok too. I always go through all your comments to check.
3. Follow me on Twitter @JMom
4. Follow this blog on Networked Blogs
5. Subscribe to this blog via reader or email.
Restrictions:
– The publisher, Hachette Books, will be sending out the book directly to the winner therefore,
– Only residents of the U.S. or Canada are eligible to win and
– No P.O. Boxes
– You will have 48-hours to reply after your email notification or another winner will be chosen
This contest will end on November 15, 2009
THIS GIVEAWAY IS NOW CLOSED
and the winner is:
Comment # 19 from Tamara B
Congratulations, Tamara! and thank you to everyone who entered this giveaway.
My apologies for not posting the usual screen shot of the random draw, but things got really hectic at work and that's why the drawing for these giveaways was also delayed.