Breaking the Bank by Yona McDonough
Breaking the Bank by Yona McDonough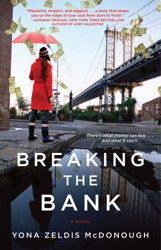 Book: Breaking the Bank
Author: Yona McDonough
Release Date: September 2009
ISBN-10: 1439102538
ISBN-13: 9781439102534
Pages: 368
Summary
MONEY ISN'T EVERYTHING
Mia Saul is down on her luck. Dumped by her husband, jettisoned from her job, and estranged from her adored older brother, she and her young daughter, Eden, have had to make a downscale move to a crummy apartment, where their neighbors include a tough young drug dealer and a widower who lets his dogs use the hallways as their own personal litter box. Juggling a series of temporary jobs, wrangling with her ex-husband over child support, and trying to keep pace with Eden's increasingly erratic behavior have left Mia weary and worn out.
EXCEPT WHEN IT IS
So when a seemingly functional ATM starts handing Mia thousands and thousands of dollars — and not deducting the money from her account, because it sure isn't in there — she isn't about to give it back. Her newfound cash stash opens up a world of opportunity, and a whole lot of trouble. Worried friends, family, and in-laws start questioning her judgment about everything, and the cops really, really want to know where all that cash is coming from. And then there's Patrick, a man Mia most definitely would never have met if things hadn't spun out of control. Mia is beginning to think that maybe somebody, somewhere, is trying to teach her a lesson about what matters in life, and what doesn't….
About the Author
Yona Zeldis McDonough is the author of the novels THE FOUR TEMPERAMENTS and IN DAHLIA'S WAKE. She is also the editor of the essay collections THE BARBIE CHRONICLES: A LIVING DOLL TURNS FORTY and ALL THE AVAILABLE LIGHT: A MARILYN MONROE READER. Her short fiction, articles, and essays have been published in anthologies as well as in numerous national magazines, and newspapers. She lives in Brooklyn, New York.
My Thoughts
I must admit, I haven't finished reading this book yet. I have about three novels that I'm reading simultaneously (that may not be such a bad idea) and this is the one next to my bed. You know how that goes… you start reading in bed and before you know it, you've nodded off. Nothing to do with the novel at all, of course, it's just what happens when I lay my back on a stack of pillows.
Anyway, you know that saying, "Money isn't everything… except when it is"? When you have it (money), when it comes easy to you, it is not important. It means little. But when you don't have any money, then it becomes everything to you. Without money, you can' eat. Without money, you can't have a place to live. When you don't have money, you start wanting it…. really bad. It is like a drug; you question yourself, what are you willing to do for money?
When you are by yourself, it could be an easy question to answer. But when you have a child, when you are responsible for that person, would you choose to feed their stomach or their soul? That is kind of what this novel is asking.
As a mother of three teenage daughters, I can relate to the financial struggle. I can also relate to wanting or hoping them to be better than you. At the same time, I also believe in Karma. That when you gain something from an unethical deed, you will get it back in the same way or worse and that seems to be one of the themes in this novel.
I am enjoying reading this book and I am pleased to participate in this blog tour. I had a chance to ask Yona to say something about her views on how to encourage our kids to save and not just to save for the things that they would like to buy, but also to save for something good; meaning how to encourage them to give what they've saved up to someone else (not an easy task when you have kids living in a material driven world). I think we parents sometimes get too caught up in the daily grind that we forget to teach them what charity and volunteerism can bring to their lives.
This is what Yona had to say about that:
From author, Yona McDonough:
The best way to teach kids to extend charity is by example. The old adage about actions speaking louder than words really applies here; if you want your children to give to others, they have to watch you doing exactly that. In my novel, BREAKING THE BANK, the protagonist Mia Saul does not lecture her ten-year old daughter Eden about the need to give; she simply does it because that is part of who she is, and her daughter is a witness to her mother's generosity. Eden sees Mia give money to a homeless woman sitting on the street; she and Mia give money to a beggar they encounter in their neighborhood. Mia helps out the neighbors in their apartment building: the elderly widower who lives across the hall, the family that lives upstairs. These are the kinds of acts that are etched in our childrens' minds and hearts; they need to see us being our best selves before they can realize the very best that they themselves can be.
WIN THIS BOOK!
Thanks to Pocket Books, a division of Simon & Schuster, who provided the review copy of this wonderful book, they have also offered to giveaway two copies of this book. To enter this giveaway, here's what you have to do:
To enter, leave me a comment: What would you do if your ATM started spitting free money at you?. Make sure you leave a valid email address.
EXTRA ENTRIES
After leaving your answer in the comment section, you can gain additional entries by sharing this contest in any social media (e.g. twitter, facebook, digg, reddit, etc) . Just come back and let me know or leave the url where your shared it. You can also win one entry each day you share it on Twitter. Just copy and paste the text below:
If your ATM gave you too much money, what would you do? Comment @JMom and you could win Break the Bank! http://retwt.me/D75e
There is also the 'Share This' and 'retweet' button at the end of this post for your convenience.
Blog about this giveaway and win three (3) additional entries to the giveaway. Make sure you leave the URL to your post.
This contest is open to everyone even residents outside of U.S. (since i will be the one mailing you the book) and ends October 23, 2009.
THIS GIVEAWAY IS NOW CLOSED
and the winners, according to random.org, are:
List Randomizer
There were 59 items in your list. Here they are in random order:
42. Julie L
24. Patti Bright
Congratulations, Julie and Patti! To everyone who entered, thank you and make sure you come back and enter more giveaways!