WAT-AAH!! WAT-AAH!! Everywhere!
WAT-AAH!! WAT-AAH!! Everywhere!
If you're a blog reader like I am, I'm sure you've seen WAT-AAH! on other sites. I did, before I even got to try the actual samples, I entered a few giveaways on friend's blogs. I didn't win any of them unfortunately but I finally did get to sample some of what they were talking about. I received a sample pack of WAT-AAH! containing one bottle of each 'flavor' and some cute items like stickers and temporary tattoos that my daughters just loved.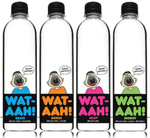 First off, they knew what they were doing when they said these were designed for children because my girls were immediately attracted to the packaging. As a mom, I can tell you that when marketing to kids, packaging is very important and no matter how we moms warn them about the allure of packaging, they ignore us and go for the thing that catches their eyes first anyway. My girls liked how you can see another message on the back of the front label when you look at it from the back. They got a kick out of that one. I know, easily amused they are 🙂
I've always encouraged the girls to drink lots of water and when they started playing sports and heard the same speech about staying hydrated from their coach, the message finally sunk in. I know! Isn't it just typical how we moms can repeat the same advice over and over again and all we get are eye rolls then someone else like their coach tells them the same things and all of a sudden, it's "coach said….. drink lots of water…… good for you…… hydrated……" Geesh!

Anyway, WAT-AAH! knows all the benefits of staying hydrated and they've designed these water to encourage kids to drink more. They are 100% sugar free unlike other water products so mom likes that. Actually, even with the 'flavors' (Brains, Bones, Body, Energy) on the bottle, they all taste like….. WATER 🙂 This mom likes that! It has no sugar, artificial flavors or coloring. It is just plain, good, clean water. Well that, and some essentials like magnesium, electrolytes and oxygen to help maintain good health.
If you're an ole skeptic like me, you're probably thinking that it probably costs more for this water than your usual store brand. After all, you're paying for all the colorful packaging and witty sayings, right? Well, partly right. They don't have a store here in N.C. yet that carries them so I can't tell you how much they sell for at the stores. You can buy them on Amazon.com but of course the shipping will get you.
But right here, you can sign up to win a cool WAT-AAH! prize pack for…. FREE! Just read below how you can enter.
WAT-AAH! Giveway
THIS GIVEAWAY IS NOW CLOSED
The winner is…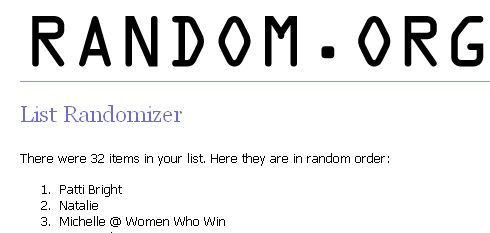 Congratulations, Patti Bright!
Thank you to everyone who entered this giveaway.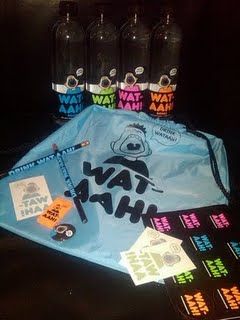 Prize:
WAT-AAH! Backpack filled w/ fun back-to-school goodies (pencils, erasers, stickers etc…) Along with WAT-AAH! samples
How to enter:
Leave me a comment and tell me how you keep yourself or your kids hydrated.
Extra Entries (leave a comment for each extra entry you make):
1. Follow Me On Twitter & Tweet this giveaway
2. Follow WATAAH on Twitter
3. Follow the WAT-AAH! Blog
4. Spread the word on any social media (see 'share this' button below and leave a comment for each place you shared it
Rules:
1. Giveaway is open to US residents only
2. No P.O. box address
3. Giveaway ends on September 25, 2009