The Blue Star by Tony Earley – Giveaway
The Blue Star by Tony Earley – Giveaway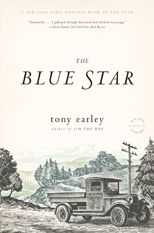 THE BLUE STAR
By Tony Earley.
Publish Date: 8/26/2009
Price: $13.99/$15.50
ISBN: 9780316008051
Pages: 336
Summary
Seven years ago, readers everywhere fell in love with Jim Glass, the precocious ten-year-old at the heart of Tony Earley's bestseller Jim the Boy. Now a teenager, Jim returns in another tender and wise story of young love on the eve of World War Two.
Jim Glass has fallen in love, as only a teenage boy can fall in love, with his classmate Chrissie Steppe. Unfortunately, Chrissie is Bucky Bucklaw's girlfriend, and Bucky has joined the Navy on the eve of war. Jim vows to win Chrissie's heart in his absence, but the war makes high school less than a safe haven, and gives a young man's emotions a grown man's gravity.
With the uncanny insight into the well-intentioned heart that made Jim the Boy a favorite novel for thousands of readers, Tony Earley has fashioned another nuanced and unforgettable portrait of America in another time–making it again even realer than our own day.
This is a timeless and moving story of discovery, loss and growing up, proving why Tony Earley's writing "radiates with a largeness of heart" (Esquire).

About Tony Earley
Tony Earley is the author of four books: Here We Are in Paradise, a collection of stories; the novel Jim the Boy; the personal essay collection Somehow Form a Family; and The Blue Star, a novel released in Spring, 2008. A winner of a National Magazine Award for fiction, he was named one of the twenty best writers of his generation by both Granta, in 1996, and The New Yorker in 1999. His fiction and/or nonfiction have appeared in Harper's, Esquire, The New Yorker, The Oxford American, The New York Times Book Review, Tin House, Best American Short Stories, New Stories from the South and many other magazines and anthologies.
He is a native of western North Carolina and a graduate of Warren Wilson College and The University of Alabama. He lives in Nashville, Tennessee with his wife and daughter, where he is the Samuel Milton Fleming Associate Professor of English at Vanderbilt University.
My Thoughts
Fresh off from Julie and Julia, I jumped on this book and I'm not quite finished with it yet but I want you all to have a chance to read this book because, so far, it is engaging and I'm sure you will like it as much as I'm starting to. For one, the writing style is very different from Julie and Julia; flip of the coin different. This is much more sedate in pace, the narrative more descriptive. You feel like you're watching scenes in a movie when you're reading this book.
The cover… you all know how I am with covers. I love a book with a great cover and this is one of them. The cover is a black and white drawing that reminded me of woodcut prints and I love it! It fits perfectly with the theme of the book. If I were browsing in a bookstore and saw this, I would definitely stop and look.
Here's additional information about the book and the author:
Reading Group Guide
Interview with Tony Earley
Read a Chapter Excerpt
Thanks to our friends at Hachette Books who are keeping our hunger for reading well fed, they are again providing us five books to giveaway to our readers. If The Blue Star sounds like something you'd like to read, all you have to do is sign up below.
WIN THE BOOK!
THIS GIVEAWAY IS NOW CLOSED
The winners are: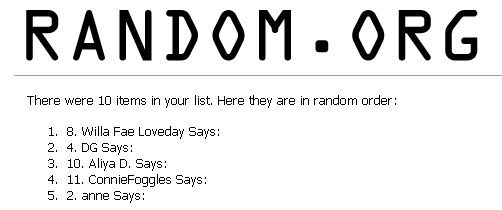 Willa Fae Loveday, DG, Aliya D, ConnieFoggles and Anne!
Congratulations to the winners and thank you, everyone for entering this giveaway. Make sure you come back for more!
***********************************************************
Contest Duration: Sept. 3-16, 2009
To be eligible for the drawing, here's what you have to do to enter:
1. Leave me a comment. Tell me, why you would like this to read this book.
2. Gain additional entries by sharing this contest in any social media (e.g. twitter, facebook, digg, reddit, etc) . Just come back and let me know or leave the url where your shared it. (one entry per site you share it at)
3. You can also win one entry each day you share it on Twitter. Just copy and paste the text below, tweet it and come back and leave the URL of your tweet.
The Blue Star book giveaway @JMom http://tinyurl.com/kj2wku
There is also the 'Share This' and 'retweet' button at the end of this post for your convenience.
4. Blog about this giveaway and win three (3) additional entries to the giveaway. Make sure you leave the URL to your post.
Restrictions:
– The publisher will be sending out the books directly to the winners therefore,
– Only residents of the U.S. or Canada are eligible to win and
– No P.O. Boxes
This contest will end on Sept. 16, 2009