Nurtureshock by Po Bronson and Ashley Merryman
Nurtureshock by Po Bronson and Ashley Merryman
The world of parenting is about to change.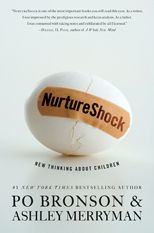 NURTURESHOCK
By Po Bronson and Ashley Merryman
Publish Date: 9/3/2009
Price: $24.99/$29.99
ISBN: 9780446504126
Pages: 352
Summary
In a world of modern, involved, caring parents, why are so many kids aggressive and cruel? Where is intelligence hidden in the brain, and why does that matter? Why do cross-racial friendships decrease in schools that are more integrated? If 98% of kids think lying is morally wrong, then why do 98% of kids lie? What's the single most important thing that helps infants learn language?
NurtureShock is a groundbreaking collaboration between award-winning science journalists Po Bronson and Ashley Merryman. They argue that when it comes to children, we've mistaken good intentions for good ideas. With impeccable storytelling and razor-sharp analysis, they demonstrate that many of modern society's strategies for nurturing children are in fact backfiring–because key twists in the science have been overlooked.
Nothing like a parenting manual, the authors' work is an insightful exploration of themes and issues that transcend children's (and adults') lives.
About the Author/s
Po Bronson and Ashley Merryman's New York Magazine articles on the science of children won the magazine journalism award from the American Association for the Advancement of Science, as well as the Clarion Award from the Association for Women in Communications. Their articles for Time Magazine won the award for outstanding journalism from the Council on Contemporary Families. Bronson has authored five books, including the #1 New York Times bestseller What Should I Do With My Life?
My Thoughts
I haven't read the whole book from beginning to end but you don't have to read all of it at once to get the idea. Actually, this is one of those books that you really can't sit down and read in one big gulp. It is best absorbed in small doses and that is exactly what I'm doing. I'm finding this book a very fascinating read. It isn't a parenting manual, for me it is more of a validation of the parenting style that I've adopted over the years; that is that it is largely instinctive. More of an educated instinctive parenting style. They don't proclaim that one method or another is right, they more or less say that everyone has to find what works for them after they've taken the time to learn all there is to know.
Sections in the book cover topics such as: The Inverse Power of Praise, Why White Parents Don't Talk About Race, The Search for Intelligent Life in Kindergarten, The Science of Teen Rebellion and many more equally thought provoking subjects.
As parents, we are all constantly learning. We don't always come armed with the tools we need to properly nurture our children just as they don't come naturally to the traits that will guide them for the rest of their lives. This book does not outline the right way or the wrong way, but it does provide us with issues to consider, revisit and reevaluate. Parenting is always evolving. This book recognizes that and we as parents know that we can always veer one way or another as we gain more insight into our children and what makes them tick.
If you would like to read this book, I am giving away five copies courtesy of Hachette Books. Read on below to see how you can get your hands on this ground breaking book.
WIN THE BOOK!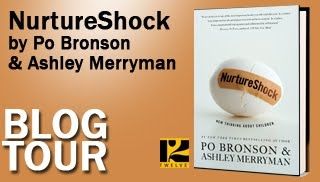 The blog tour for this thought-provoking book is running from August 31 to September 11 check at the bottom of this post for a list of participating blogs and additional chances for you to win. Some of them are also giving away the audiobooks instead of the hardcover so go and visit them!
Contest Duration: Sept. 6-20, 2009
To be eligible for the drawing, here's what you have to do to enter:
1. Leave me a comment. Tell me, If you're a parent, have you ever read parenting books? How closely did you follow them? If you're not a parent, Do you think these types of books are helpful?.
EXTRA ENTRIES
2. Gain additional entries by sharing this contest in any social media (e.g. twitter, facebook, digg, reddit, etc) . Just come back and let me know or leave the url where your shared it. (one entry per site you share it at)
3. You can also win one entry each day you share it on Twitter. Just copy and paste the text below, tweet it and come back and leave the URL of your tweet.
The world of parenting is about to change. Read Nurtureshock @JMom http://tinyurl.com/mrtqhe Enter to win a copy!
There is also the 'Share This' and 'retweet' button at the end of this post for your convenience.
4. Blog about this giveaway and win three (3) additional entries to the giveaway. Make sure you leave the URL to your post.
Restrictions:
– The publisher will be sending out the books directly to the winners therefore,
– Only residents of the U.S. or Canada are eligible to win and
– No P.O. Boxes
This contest will end on Sept. 20, 2009
THIS GIVEAWAY HAS ENDED
and the winners are…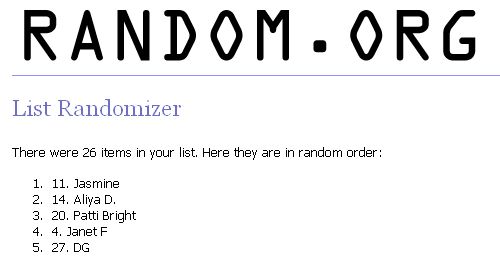 Congratulations to Jasmine, AliyaD, Patti Bright, Janet F and DG! Emails have been sent to notify you of your win. Please reply within 48-hours or another winner will be chosen.
Thank you to everyone who entered the giveaway!