Julie and Julia by Julie Powell – The Book, The Movie and the Giveaway
Julie and Julia by Julie Powell – The Book, The Movie and the Giveaway
THIS GIVEAWAY IS CLOSED
and the winners are:

Congratulations to the winners: Natalie A., Patti Bright, Cindy, Munchkin Mommy and DG
Thank you to everyone for entering. Stay tuned for more!
*********************************************************************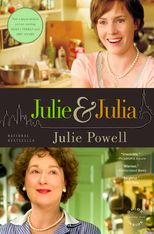 JULIE AND JULIA
By Julie Powell
Publish Date: 7/1/2009
ISBN: 9780316044271
Pages: 352
Summary
Julie & Julia, the bestselling memoir that's "irresistible….A kind of Bridget Jones meets The French Chef" (Philadelphia Inquirer), is now a major motion picture. Julie Powell, nearing thirty and trapped in a dead-end secretarial job, resolves to reclaim her life by cooking in the span of a single year, every one of the 524 recipes in Julia Child's legendary Mastering the Art of French Cooking. Her unexpected reward: not just a newfound respect for calves' livers and aspic, but a new life-lived with gusto. The film version is written and directed by Nora Ephron and stars Amy Adams as Julie and Meryl Streep as Julia.

Author Bio
Julie Powell was born and raised in Austin, Texas. She graduated from Northeastern Liberal Arts College with a double major in theater and fiction writing. After graduation, she and her husband Eric moved to New York City with intentions to work in the theater but instead found herself blogging on the Julie/Julia Project. And the rest, as they say, is history.
My Thoughts
I wasn't going to go see the movie until I finished the book and I was only halfway through when my daughter and I decided to go see Ponyo last weekend. Unfortunately, Ponyo was sold out so we decided to watch another movie. Julie and Julia, it turned out, was the only other non-rated R movie showing and the next showing was scheduled to start in 10 minutes, so Julie and Julia it was. I was concerned how my eleven year old daughter will like it. I mean, how exciting can two women finding themselves through food be to an eleven year old?
Apparently, it was as amusing and interesting to an eleven year old as it was for her mother. We both laughed at the same places except for the lobster one. I laughed, she was horrified.
While the movie is not exactly as the book (it never is), it did a wonderful job at blending the two stories together and taking the most poignant scenes from both lives and weaving them into the movie.
The thing that you miss out on in the movie is reading the whole story. Yes, it's a big deal to read the whole story because that is what started this whole thing in the first place. Back when blogging was young, Julie Powell started the Julie and Julia Project. It is essentially a food blog as it talks about food, and recipes and cooking. But it doesn't have the glitz and pretty photos that accompany the top food blogs of today. It is mostly narrative and it is Julie's words that draw you in. She is an amazing writer and many of us recognized that when we first read her blog. Her natural wit and sardonic humor is what kept her readers coming back. The book has that and the movie, I think toned down some of the rough edges that makes Julie Julie.
It's kind of funny that they gave Julia in the movie most of the racy lines whereas Julie, whose writing is peppered with expletives and innuendos is given the whiny and mostly clean lines. Just my thoughts.
By now, you know that you should both read the book and see the movie. I definitely recommend reading the book first to give you a better perspective of where the Julie in the movie is coming from. If you watch the movie first, you'll be seeing Meryl Streep all through the book. So don't do it!
You're in luck because our good friends at Hachette Books are again letting me giveaway 5 copies of Julie and Julia to 5 lucky readers.
WIN THE BOOK!
Contest Duration: Sept. 2-15, 2009
To be eligible for the drawing, here's what you have to do to enter:
1. Leave me a comment. Tell me, What's the first thing you learned to cook?
2. Gain additional entries by sharing this contest in any social media (e.g. twitter, facebook, digg, reddit, etc) . Just come back and let me know or leave the url where your shared it. (one entry per site you share it at)
3. You can also win one entry each day you share it on Twitter. Just copy and paste the text below, tweet it and come back and leave the URL of your tweet.
Julie and Julia book giveaway @JMom http://tinyurl.com/kqy624
There is also the 'Share This' and 'retweet' button at the end of this post for your convenience.
4. Blog about this giveaway and win three (3) additional entries to the giveaway. Make sure you leave the URL to your post.
Restrictions:
– The publisher will be sending out the books directly to the winners therefore,
– Only residents of the U.S. or Canada are eligible to win and
– No P.O. Boxes

This contest will end on Sept. 15, 2009