A Highlander's Temptation by Sue-Ellen Welfonder
A Highlander's Temptation by Sue-Ellen Welfonder
This week I am pleased to participate in the book blog tour for A Highlander's Temptation by By Sue-Ellen Welfonder who graciously contributed the following essay and beautiful photographs for this tour. Reading the essay below gives you a great insight into the personality of the author and also some very interesting background information about the novel.
Details for the giveaway are at the end of this post so don't forget to sign up to enter!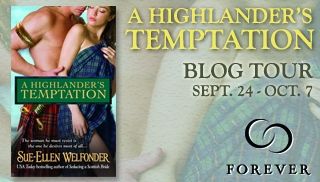 Book: A Highlander's Temptation
Author: Sue Ellen Welfonder
Publish Date: 10/1/2009
ISBN: 9780446195300
Pages: 400

From the author, Sue Ellen Welfonder:

Sooner or later, everyone who writes hears about fairy dust. Also known as a magic bullet, it's the one thing we'd all love to have: a miraculous quick-fix that makes writing dreams come true and – oh, can you imagine! – without any real effort on the part of the lucky, fairy dusted writer.

Fairy dust is magic.

Anyone who reads my books, including my latest Scottish medieval, A Highlander's Temptation (GCP, Oct. 2009), will see that I'm fascinated by all things mystical. You'd think fairy dust is just my cuppa. Someone who writes about Highland magic, meddlesome, spell-casting crones, ancient relics with mysterious powers, Celtic and Norse legend and lore, surely also goes in for a sprinkle of fairy dust here and there.

What's not to love about something rumored to make deadlines a breeze, blast books onto bestseller lists, and allow you to plot an entire series faster than most people can say Bookscan?

Too bad, finding a sparkly little vial of fairy dust is about as likely as waking up on Mars.

At the end of the day, it is solely the writer who must make deadline and dream up an engaging storyline. Sure, we have agents, editors, marketing people and publicists, pulling with us. (and thank goodness for them!) But we're the ones who must brave the solitude of our writing caves and face the blank screen and blinking cursor. And if we want to fill the page, it comes down to one thing: elbow grease.

No one is going to do the work for you.

And even when you do it, and beautifully, there will never be a guarantee you'll succeed.

The sad truth is there isn't a secret handshake.

But there is something else.

It's sometimes called synchronicity, sometimes serendipity. The name doesn't matter. By any name, when it happens, it's pure magic.

The heavens open and shine inspiration down on you. This photo that I took at Aviemore in the Highlands, shows pretty much how it feels….

And it is much better than fairy dust because this kind of writing magic really occurs. Every author I know has experienced it. It's a wondrous and exciting ah-ha moment that, in reality, is probably nothing more than the subtle workings of our subconscious.

That doesn't make it any less fun.

There's just something amazing about writing some small detail into a story and then, hundreds of pages later, – ta-da! – that innocuous little something, be it an object or a bit of dialogue or even a passing mention of a place or event, suddenly becomes a pivotal plot element.

If I had a dollar for each time this has happened to me, I'd have a nice stash of mad money.

What's really neat is that this synchronicity/serendipity/hey-silly,-it's-only-your-subconscious phenomena isn't limited to the actual writing process. It also happens in research. You'll be studying something specific and stumble across an unexpected and fascinating tidbit that works beautifully in your plot.

A Highlander's Temptation (GCP, Oct. 2009) gives an excellent example. Because the book's heroine, Arabella MacKenzie, is the daughter of the Duncan MacKenzie, hero of my first book, Devil In A Kilt, her age made it necessary to set the story in 1350. There wasn't any way around that. But using this date meant placing my story in the general timeframe when the dread Black Death finally crept across the border to England and began taking its toll on Scotland.

This was a problem.

I couldn't change Arabella's age. And I certainly couldn't alter historical fact.

This was an especially mind-twisting issue because the entire plot revolved around Arabella going on a journey. Worse, it needed to be a sea voyage. Readers familiar with my MacKenzie Scottish medievals will know that Duncan is a very protective father. He would never allow his beloved daughter to be put in danger.

It was about this time that I started wishing for fairy dust!

But knowing that no glittery stuff was going to twinkle down onto my keyboard to magically fix the matter, I did what any self-respecting author would do. I began researching the Black Death.

Loving medieval history as I do, I already knew the basics. And being a lifelong collector of research books, I have an entire bookshelf lined with wonderful tomes all about this most unsavory subject.

It was time to look for detail.

Some obscure little factoid that would help me build a reason for Duncan to let his girl sail away on the voyage that I needed her to take.

I quickly found what I needed. For one thing, although the plague did enter Scotland, the Highlands and the Isles remained fairly untouched. And – this was a biggie – the learned of the day agreed that flight was the best preventative measure. Those who could, such as wealthy merchants and nobles, fled to remote places where they felt protected from the miasmic cloud believed to spread the terrible malady. Also, the ravaging of the plague seemed to lessen in colder climes and seasons.

This was good!

Duncan wasn't letting Arabella loose into a landscape of doom. Far from it, he'd know that a journey to a remote place was the best defense if the plague should near their territory. And with the story set in autumn, the dangers would also be dampened by the approach of Scottish winter.

And here is my ah-ha moment: I learned that many highly regarded medical men of the times were in Flanders. I discovered that they viewed the plague as a drifting cloud of pestilence. They believed noise could be used to 'break up the air' and disperse the danger.

This is why (among other precautions) noise-making processions were formed to weave through plague-ridden villages. It was believed that the commotion would disturb the atmosphere and dispel the cloud of doom.

The noise-breaking-up-the-air factoid was my fairy dust.

The sparkly little gem out of nowhere that fit so nicely into my story. Here's how:

The shipmaster of the merchant cog Arabella journeys on has been to Flanders. The Low Countries provided important sea ports for trade and so Captain Arneborg could very well have come into contact with prominent doctors there. From them, he would have learned about their beliefs regarding noise as a defense against the plague.

When I realized this, I breathed a sigh of relief. I knew how I could work in a way to make Arneborg's ship plague-free to the medieval mind. Those who read A Highlander's Temptation (GCP, Oct. 2009) will see how I did that. Since it isn't really a spoiler, I'll share that I had the shipmaster fasten bells about his *merchant cog. He believed the ringing of those bells kept his ship safe.

*For the curious, I chose a cog for Arabella to travel on because, in the times, these sturdy sea-going vessels were believed to be nearly unsinkable.

The above, I hope, will show how research can seem like getting sprinkled with fairy dust.

As for how this magic happens in the writing process, I'll just say that the inclusion of those plague bells helped me add lots of whimsy to the tale.

You'll have to read A Highlander's Temptation (GCP, Oct. 2009) to see how. For now, it's enough to reveal how Captain Arneborg used the bells.

I will share some (not gory) interesting facts about the Black Death:

**The Black Death raged across Europe between the years 1347 and 1350, wiping out about one third of the population.

**When the plague reached England (but before it crossed into Scotland) the Scots believed it was God-sent retribution to punish the English.

**Although many believed in the cloud-of-death theory, others thought it was transferred person-to-person. Some felt that just glancing at a plague victim was enough to spread the infection.

**Self-imposed entombment sometimes worked as a safeguard. If the wealthy couldn't flee, some walled themselves into their homes. With enough food and water, they weathered the plague's passing and emerged unscathed.

**Aromatic woods and oils were burned in the belief that they would cleanse the air. These included amber, musk, juniper, rosemary, and laurel, to name just a few.

**Powders that could be tossed onto a fire were also used. One popular blend was sulfur, arsenic, and antimony.

**Ground emeralds were considered particularly potent.

**Those not too squeamish could imbibe a wonder preventative made of chopped-up snakes and fine wine along with over sixty other ingredients.

I'll stop there, but will add that medieval scholars also believed that a tranquil mind also went a long way in preventing infection.

Sometimes in writing, too, tanking peace (aka refilling the well) can work wonders. Below is a photo of my best-ever recipe for fairy dust. It shows my favorite picnic spot in the Shetland Isles. And, yes, that's my feet you see in the picture.

It's visiting such wild and empty places that inspire me so much and fuel all my stories.

Question to you – where do you find your fairy dust?

Visit me at www.welfonder.com to learn more about Arabella's world and maybe some neat factoids about long-ago times and distant places.
WIN THIS BOOK!
A HIGHLANDER'S TEMPTATION
By Sue-Ellen Welfonder
Summary:
Darroc MacConacher spends sleepless nights dreaming of a raven-haired beauty who makes him ache with desire. Then his dream comes true: the lady with her lush curves and fair skin appears shipwrecked on his shores. Darroc is immediately drawn to her strength and beauty, and from the moment she lays eyes on this powerful, broad-shouldered warrior, Lady Arabella MacKenzie knows she'll never want another man.
But theirs is a forbidden love. The MacKenzies drove the MacConachers from their lands and destroyed their honor. Now, Darroc can use this sapphire-eyed seductress to shatter his foes. Yet how can he deny the passion that burns between him and Arabella, and ruin the one woman who touches his very soul?

ENTER THE GIVEAWAY
Contest Duration: September 28-October 10, 2009
Prize: A copy of A Highlander's Temptation to 5 winners, courtesy of Hachette Book Group
To be eligible for the drawing, here's what you have to do to enter:
1. Leave me a comment answering the author's question: Where do you find your fairy dust?
2. Gain additional entries by sharing this contest in any social media (e.g. twitter, facebook, digg, reddit, etc) . Just come back and let me know or leave the url where your shared it. (one entry per site you share it at)
3. You can also win one entry each day you share it on Twitter. Just copy and paste the text below, tweet it and come back and leave the URL of your tweet.
Find your fairy dust, win A Highlander's Temptation from @JMom http://retwt.me/nDEK
There is also the 'Share This' and 'retweet' button at the end of this post for your convenience.
4. Blog about this giveaway and win three (3) additional entries to the giveaway. Make sure you leave the URL to your post.
Restrictions:
– The publisher, Hachette Books, will be sending out the books directly to the winners therefore,
– Only residents of the U.S. or Canada are eligible to win and
– No P.O. Boxes
– You will have 48-hours to reply after your email notification or another winner will be chosen
This contest will end on October 10, 2009
THIS GIVEAWAY IS NOW CLOSED
and the winners are:
Patti Bright, Cheri Oggy, etive, CherylS22, and Ruby and Reba

Congratulations to all the winners and thank you to all who entered this giveaway!