Off Season by Anne Rivers Siddons – Giveaway!
Off Season by Anne Rivers Siddons – Giveaway!
THIS GIVEAWAY IS NOW CLOSED
There are five winners to this giveaway and each one of them will get a copy of this book directly from the publisher.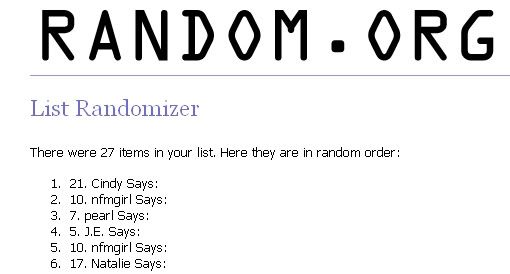 As you can see from the draw, nfmgirl came up twice so I went down the list one more time to get another winner. These are the five winners for this giveaway. Some of them are bloggers too and they also host giveaways on their site so be sure to visit them.
Cindy blogged about this giveaway on her blog, Cindy's Hawaiian Oasis
nfmgirl blogged about this giveaway on her blog, Cerebral Girl in a Redneck World
Pearl left a comment
J.E. also left a comment
Natalie blogged about this giveaway on her blog, The Adventures of Paul and Natalie
Update: nfmgirl had already won this book from another blog so we chose another winner.
Elizabeth of Thoughts From an Evil Overlord
Congratulations, everyone! Emails have been sent your way. Please reply within 2 days (48-hours) or another winner down the list will be chosen. Thank you for entering the giveaway.
********************************************
Category: FICTION
Format: HARDCOVER BOOK
Publish Date: 8/13/2008
Price: $24.99/$27.99
ISBN: 9780446527873
Pages: 368
Size: 6″ x 9″
I am reading this book right now and so far I am enjoying it. Since I'm a slow reader, I thought I would give you a chance to catch up by posting this giveaway right away. Hachette Books has allowed me to giveaway 5 copies of this book to my readers.
Off Season by Anne Rivers Siddons is a love story about love and lost. "It is a story about those simple truths that often elude us, even when they are in front of our eyes, OFF SEASON explores the hidden places of the heart that continually surprise us." – from the backcover
About the book:
For as long as she can remember, they were Cam and Lilly–happily married, totally in love with each other, parents of a beautiful family, and partners in life. Then, after decades of marriage, it ended as every great love story does…in loss. After Cam's death, Lilly takes a lone road trip to her and Cam's favorite spot on the remote coast of Maine, the place where they fell in love over and over again, where their ghosts still dance. There, she looks hard to her past–to a first love that ended in tragedy; to falling in love with Cam; to a marriage filled with exuberance, sheer life, and safety– to try to figure out her future.

It is a journey begun with tender memories and culminating in a revelation that will make Lilly re-evaluate everything she thought was true about her husband and her marriage.
About the author:
Anne Rivers Siddons is the author of sixteen previous novels and is acclaimed as one of the best Southern authors. Read more on the Interview with Anne Rivers Siddons or visit her website at www.anneriverssiddons.net.
My Thoughts
I finally finished reading the book and I had to exhale. I didn't realize I had been holding my breath! The novel starts with the death of a husband but as Lilly takes her husband's ashes to their beloved summer home in Maine where he wanted his ashes to be scattered, we journey back with her to her childhood. The carefree days of summers she spent in Maine shaped and affected her life in unexpected and surprising ways.
Children forget quickly and without regret, but somehow they rarely lose the forgotten thing. It sinks quietly deep inside them and drifts into the maw of childhood as neatly as a tender new bone into a forming skeleton, and there it stays: part of the fabric of Child.
As privileged as her childhood seemed, Lilly's is also peppered with tragedies. Two major ones in fact. Two tragedies that followed her ever decision into adulthood. The child that suffered these two major events, which involved losing people she loved, was always inside her despite all the events and happiness in her life that followed. That child re-emerges with the death of her husband Cam and she re-examines her life; what was real and what was presumed. She brings her husband back to his favorite place to be, their summer home in Maine, only to discover that he may not have been the doting and devoted husband she thought him to be. She also discovers the first love she found at this place when she was just but a child. Could it be possible that first love has transcended time and life?
The ending of this book is really sad. It brought tears to my eyes but also a lot of questions that I am still pondering days after I turned the last page. If you like a good romance novel that is beautifully written and artfully woven, then you will enjoy Off Season.
ENTER TO WIN!
RULES:
– To be entered, simply leave a comment on this post (make sure you enter a valid email address)
– For additional entries, follow me on Twitter or follow this blog on Facebook's Network Blogs (see widget on sidebar). You will get one entry for each follow.
– Gain more entries by sharing this giveaway on any social media (Twitter, Facebook, Stumble, Digg, etc). A 'Share This' and 'ReTweet' button is at the end of this post for your convenience. Leave a comment to tell me or leave the URL of your share and you will gain an additional entry for each one.
– Blog this giveaway and gain 3 additional entries. Leave me the URL to your post in the comment section!
– This giveaway is available only to residents of the US and Canada (no P.O. boxes)
– This giveaway ends on August 16, 20009.