Blue Like Play Dough by Tricia Goyer
Blue Like Play Dough by Tricia Goyer
THIS GIVEAWAY IS NOW CLOSED
THE WINNER IS COMMENT #1, JULIE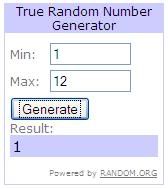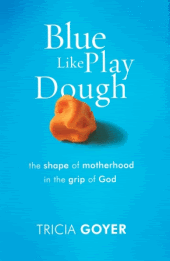 Book: Blue Like Play Dough

Author: Tricia Goyer

Paperback: 208 pages

Publisher: Multnomah Books

When I received a copy of Blue Like Play Dough from Multnomah Books to review, I was ready to read about the challenges of being a mom and how we are pulled in different directions at the same time. I wasn't prepared to read the acceptance to being molded. It dawned on me that whether you consider yourself to be religious or spiritual, there is a great lesson to be learned here. That sometimes when you allow yourself to be molded by your experiences, even though it's not always as you envisioned or hoped to be, but when you give yourself to IT (God or whatever force you believe to be guiding you), you will find that sometimes the result is something that is wonderful and fulfilling.

Most moms will relate to Tricia Goyer's experiences and some will be surprised at the ease that comes when you accept the things that you can do and the things that you cannot control. If you're still pushing against the pull, then this book may help you find the balance you're looking for.
Summary:
In the everyday stretch and squeeze of motherhood, Tricia Goyer often feels smooshed by the demands of life. In Blue Like Play Dough, she shares her unlikely journey from rebellious, pregnant teen to busy wife and mom with big dreams of her own. As her story unfolds, Tricia realizes that God has more in store for her than she has ever imagined possible.

Sure, life is messy and beset by doubts. But God keeps showing up in the most unlikely places–in a bowl of carrot soup, the umpteenth reading of Goodnight Moon, a woe-is me teen drama, or play dough in the hands of a child.

In Tricia's transparent account, you'll find understanding, laughter, and strength for your own story. And in the daily push and pull, you'll learn to recognizes the loving hands of God at work in your life… and know He has something beautiful in mind.

Author Bio:
Tricia Goyer is the author of numerous works of fiction and nonfiction, including Generation NeXt Parenting and the Gold Medallion finalist Life Interrupted. Goyer writes for publications such as Today's Christian Woman and Focus on the Family, speaks to women's groups nationwide and has been a presenter at the Mothers of Preschoolers (MOPS) national convention. She and her husband, John, live with their family in Montana.
This book can be purchased directly from from Multnomah Books, Amazon or bookstores near you OR you can win a FREE copy right here.
WIN BLUE LIKE PLAY DOUGH
The publisher for Blue Like Play Dough (Multnomah Books) were kind enough to send me an extra copy of the book and I would like to give that copy away to one lucky reader. Winning the book is easy, here's what you need to do:
Comment – Leave me a comment and let me know if you are also a mom who's felt like being pulled apart or if you know of someone like that. What did you do or did you do anything at all?
After leaving your answer in the comment section, you can win additional entries by sharing this contest in any social media (e.g. twitter, facebook, digg, reddit, etc) or blogging about it. Just come back and let me know or leave the url where your shared it. You can win one entry each day you share it on Twitter. Just copy and paste the text below:
Win Blue Like Play Dough by Tricia Goyer http://bit.ly/17PWWJ @JMom
There is also the 'Share This' and 'retweet' button at the end of this post for your convenience.
This contest is open to everyone even residents outside of U.S. (since i will be the one mailing you the book) and ends July 31 August 7, 2009.