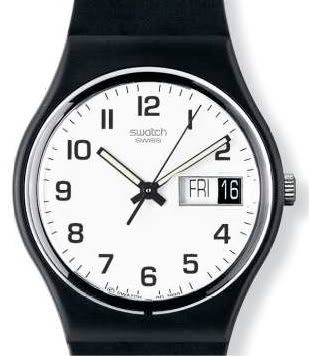 Is Swatch a thing of the eighties? I had always thought that Swatch watches were timeless. That they would always be around like the Rolex brand. So I was a bit surprised when I realized that some people had never even heard of Swatch.
When I was a teenager in the 80's, this was the watch to have. They came in those multi colored plastics then, but Swatch also had classically designed watches for grown ups not just the trendy stuff. My husband's most treasured watch is a Swatch watch. The bad thing about it is, the battery on it finally ran out and now we can't seem to find anyone who can change the battery on it. Remember when all you had to do is take it to the jeweler at the mall and they will put in a new batter for you? Well, not anymore.
Most jewelry stores now, apparently don't employ a watch repairer anymore. The person I spoke with at the jewelry store said they didn't know how to open the back of my husband's Swatch watch. That it needed a special equipment, one that they don't have, to open the back. It seemed far fetch to me, but whatever. I thought I would check the Swatch website to see if they could help. But wouldn't you know it, they have one service center listed and it's in New York. Really, how difficult could it be to change a battery?
If you have any idea on how to change the battery on a swatch watch, please let me know. I'm trying to contact the NY service center now.