PaperBack Swap
PaperBack Swap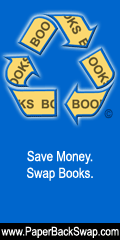 I joined PaperBackSwap.com last week and this weekend I finally got around to listing some of the books I have laying around at home. Within hours, I had requests for four of the books I just listed. Was I thrilled!
But wait, let me start at the beginning. In case you're wondering, PaperBack Swap is a site where book lovers can trade books for FREE! All you pay for is the cost of shipping which, for most paperbacks, is around $2.50. The system is simple, when you give a book a way, you can request for any book on the list in exchange. To start off, you are given 2 free credits for uploading at least 10 books to your swapping bookshelf. Even before anyone requests a book from you, you already have the credits to request 2 books.
So today, I mailed out four books that earned me 4 credits. So after a week membership, and about $10 in postage, I have 6 credits to my name. I spent one credit today to order Guinevere: The Legend in Autumn
which would complete my collection of the trilogy. I am still waiting for the request to be approved, but I have my hopes up. I'm hoping I'll get the book soon and I can start re-reading the earlier books.
I am so excited about this new site, more so than the wine of the month club or the other book clubs that end up costing me more than I budgeted for.
Join our book club and swap used books for FREE – PaperBackSwap.com