Funny Twilight Slideshow
Funny Twilight Slideshow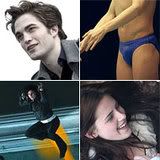 I found this funny slideshow on NY Magazine titled: 28 Reasons Twilight the movie is better than the book.
The movie opened in theaters nationwide yesterday and reviews are now available online. Most people agree, of those who have actually read the book, that the book is better than the movie. However, this slideshow makes you say, 'well, when you put it that way, I guess the movie IS better than the book!
Make sure you pay attention to the text on the right side of the photos. You've got to agree, Robert Pattinson is hott. Yes, with a two T. The tree top scene, while not in the book is a show stealer, as I've also mentioned in my observations. Again, I'm not the only one to notice the multi-culturality in the movie gives it a lot more color than the book.
The slide show is sure to make you laugh out loud and if nothing else, it's your passport to another shriek fest.