Ward Off Colds with Soup
Ward Off Colds with Soup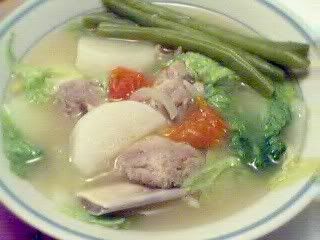 Just because the weather has turned cold and sniffles and coughs are slowly taking hold, it doesn't mean that our medicine cabinet is again restocked with cough and cold medicine or, yegads, antibiotics. I prefer to combat these cold weather ills with nutrition first if possible. I'm not averse to taking drugs when absolutely needed, mind you.
However, if you can help it, I just think that it is more helpful and more delicious when you try to fix things up first with food. I try to cure everything with food, what can I say?
When I, or the kids, start getting that tickle in the back of our throats, a sure sign that a cold is on the way, we make us a pot of very sour soup called sinigang. It is full of vegetables and you can make it as sour and as spicy as you can stand it. It wipes those cold germs right out of your system before they can even take hold.
This isn't just some old wives tale though, this soup cure. It works because of all the vegetables and nutrients that is in the soup and it tastes a whole lot better than the canned stuff.
In addition to making sure you get your fill of vitamins and minerals from vegetables, you can also supplement. In order to boost your immune system, doctors are now recommending omega-3 supplements rather than Vitamin C or Echinacea. Even with all the supplements, don't let your exercise go by the wayside as the weather gets cooler. Rather than depending on ephedra diet pills, make sure you get at least 30 minutes of exercise daily. This will keep the winter pounds away and it will make you feel much better.
By the way, if you're not into sour soups, there are plenty of other soups that are healthy for you. Just keep that in mind 🙂