It's gray out today, the sun is trying to peek out from behind the clouds without much success. That's kind of how I felt waking up this morning. I felt really sluggish and wanted to stay undercover a little longer. I was wishing I didn't have to get dressed to go to work. I wished I could have just stayed home, took it easy and had breakfast.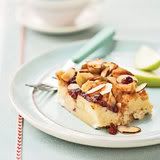 Speaking of breakfast, I noticed on my food blog that I haven't really posted a lot sweet breakfast dishes. That doesn't mean we don't ever have them, it just means, I think, that we prefer more savory dishes at breakfast rather than sweet. I do cook an occasional pack cake stack, but I use a mix. I stopped bothering with making it from scratch when the 'just-add-water' mixes are just as good if not better.
One thing that I have been meaning to make, and I think I'll be making it this weekend, is French toast casserole. We all love french toast, the plain kind, but me with my penchant for one pot dishes have always wanted to try a one pot french toast dish. This particular recipe sounds really delicious and reminds me of fall what with the cranberries and apples. Yep, I'm definitely trying this out this weekend. It sounds perfect with a nice hot cup of coffee!