Check out them Tamales!
Check out them Tamales!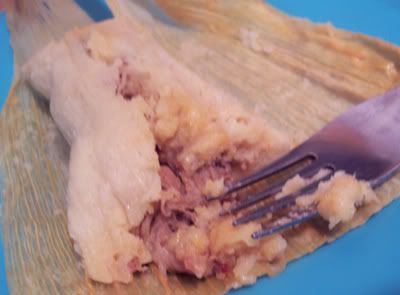 I've once again ventured where I have never been before. Cooking wise anyway. I finally made tamales on my own! Ever since joining groups such as Recipes to Rival and Daring Bakers, I've tried out more recipes that I wouldn't even have dared on my own.
With Tamales, I've always depended on the kindness of friends for my yearly fix right around the holidays. I don't ever order them in restaurants anymore because I just haven't found one that made a decent tamale. They all come out tasting too bland and dry. Now, I'm glad to say that I can have them anytime! I froze some, and was glad to find out that they even taste good after freezing. The first batch I made was filled with my favorite, pork but there are so many variations between sweet and savory that I can't wait to try them all. My family just might start getting tired of them. LOL! Anyway, if you'd like to make your own, and I strongly encourage you to, check out the recipe on my food blog.