Supercharge Me!
Supercharge Me!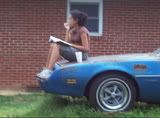 I have an old Pontiac Firebird that's been sitting in the driveway for years and the only thing it's been good for is to sit on. My husband has been saying he's going to restore it but up until now he hadn't gotten started.
So I'm sending him this link to Super Charger Pros to maybe get him psyched about getting my old car finally up and running again. For one, Super Charger Pros carry a pontiac supercharger that I know he would just go gaga about when he sees the great price. They provide a one year warranty for their parts and if you order a supercharger from the website, shipping is free! Pretty good deal, eh?
I would love to see my old car shiny and running again. Plus, our girls are getting close to driving age and we'll be needing a car for them soon. I'd rather have them drive one of these old cars than these new cute cars that seem to be made of tin.