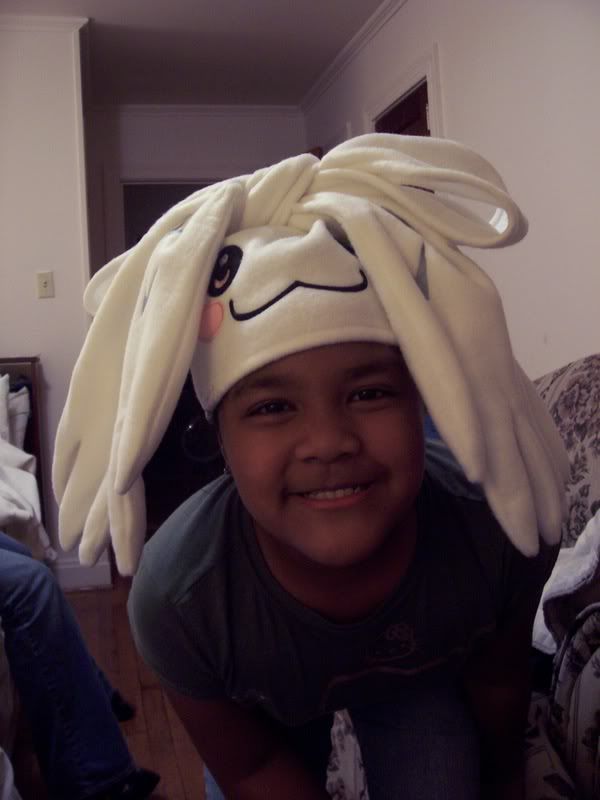 This girl has been wanting this hat since her birthday last month. I finally got around to ordering it and it arrived yesterday, Friday. She hasn't taken it off since! Seriously! I tucked her in last night and she had it on. We got up to go to the Children's Christmas Party at my job, and she had it on. I put on a Christmas hat just so I can say we were having a 'special' hat day. I guess she LOVES her Orly hat!
She frequents Gaia Online to play games and saw this Orly hat for sale at their store. Looking at the catalog photo, I assumed it would be made of knitted material. Especially at that price! ($25 plus shipping) So I was a little disappointed when it arrived and it is made of felt. It is cute and well made. The design on the hat is embroidered on and the scarf part has built in claws to slip your hands in like gloves.
But, like I said, she loves it and the material does not matter much to her. I'm concerned that when it gets washed it will shrink. And it being white, you know it will need to be washed soon. Heck ya, I'm concerned that it will shrink!
Wouldn't you know it, today while we are out shopping and went and got something to eat, yeah she had the Orly hat on, she orders spaghetti and meatballs! Luckily, she didn't get any sauce on her white Orly hat. She got it on her white sweatshirt instead 🙁
Ordering from the Gaia online store was a good experience though. I didn't expect the item to be shipped out so fast. It was at our door four days after I ordered it. The Gaia store accepts most major credit card and PayPal. I used PayPal and it was convenient and effortless.