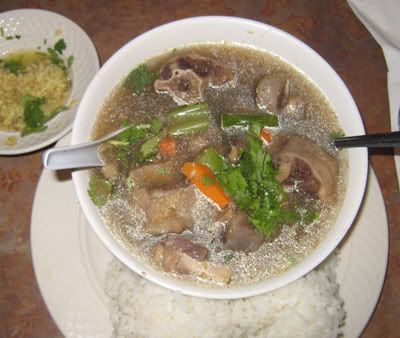 At the California Casino and Hotel in Las Vegas, Nevada, there is a small restaurant at the casino level that hits its peak around midnight. In one corner of the casino floor is the Market Street Cafe. It is a 24-hour restaurant which usually serves pretty decent American and Hawaiian fare. However, around eleven o'clock p.m. a line starts to form and, especially on weekends, starts to extend out and wind onto the casino floor. What's the buzz? Oxtail soup!

The midnight special here is the oxtail soup which is a Hawaiian specialty dish. I have tried my hand at this soup In Our Kitchen, but the Market Street Cafe version has got to be one of the best. You get in line and hopefully it is not too long or hopefully you win a little on the slots as you're waiting just like sister O who then used her winning to treat everyone. Made the soup even yummier when someone else is treating! When you finally get a table, you'll see, walking past the tables, that just about everyone in the place has a bowl of oxtail soup in front of them. It makes me wonder how they can keep up with the demand. I have visions of gigantic vats of oxtails simmering all day in the kitchen. At $6 for a big bowl, not only is the soup delicious, it is also a great deal considering the amount of meat you get in it. They are not stingy at all about their portions.Each portion comes with a couple of scoops of rice and a small bowl of minced ginger and chopped cilantro on the side. You sprinkle the ginger and cilantro on top of your soup to start with, and you can go crazy with your condiments from that point or you can have your soup as is. It is delicious enough on its own. If you want to spice it up though, you can add a spritz of lemon, or hot sauce, or soy sauce. I like to taste the pureness of the broth though, so aside from the ginger and cilantro, I just leave it as is. The meat is falling off the bone tender and swimming with carrots, celery, mushrooms and boiled peanuts. The broth is perfectly seasoned and flavored that it just makes you wanna slurp!How, you say, do we take advantage of this deal when we are vacationing with children? Well, you keep them occupied and entertained during the day, feed them pizza before bed, and get a sitter. If you can't get a sitter, grandma will do too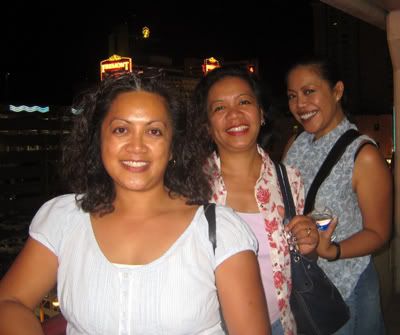 My sisters and my partners in raiding the midnight special.
California Hotel
12 East Ogden Avenue
Las Vegas, NV 89101
(702) 385-1222