Holiday Readings
Holiday Readings
I love Christmas break, it seems I get a lot of reading in around this time. I read two full length novels this week, courtesy of my daughter Asi: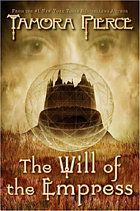 Will of the Empress by Tamora Pierce
This is the latest installment on the Circle of Magic series that Asi got me hooked on this year. So far, we've gone through the Circle of Magic quartet and we, well just me really, are working on the Circle Opens quartet. This whole series is about a group of four young mages who have different ambient skills, following their development as they grow with their magic. In this latest edition, Will of the Empress, Sandry is lured back to Namorn by her cousin the empress in hopes of keeping her and her vast fortune in the kingdom. This adventure is the first the four have shared since leaving Winding Circle to pursue their individual adventures which are recounted in the Circle Opens quartet. They have grown into young adults, no longer the children that they were at Winding Circle, their school of magic. They have experienced adversities that helped form who they are becoming as mages and young adults, but always they share a common, albeit invisible bond keeping them entwined in each others lives. They prove in this book that their individual powers is even made stronger when they put them together. Together, they almost seem invincible. Invincible mages they may be, but Tamora Pierce does not forget that they are foremost teenagers with their owns angsts and growing pains.

Eragon by Christopher Paolini
The second book that Asi introduced me to is Eragon by Christopher Paolini. If this is a preview of what this young author is capable of, then I can't wait to see what he comes up with next. Well, actually, he already has come up with the sequel, thank goodness, Elder is now out, the second book in the trilogy. Christopher Paolini started writing Eragon when he was only fifteen. What a scary model to throw at my daughters! 🙂
Eragon is about the adventures of a young man, Eragon, who finds a dragon's egg and discovers a whole other world opening up to him. He thought he was nothing but a lowly farmboy abandoned by his parents to be raised by his uncle in a small mountain town. With the discovery of the egg and its hatchling, Saphira, the dragon, Eragon is catapulted into a world of magic, dwarves, elves, and urgals. He finds out he is a dragon rider, and what starts out as a voyage of vengeance (to avenge the death of his uncle) is slowly evolving into a larger purpose as he learns more and matures during this voyage. A great read, I could hardly put down and devoured it in a couple of days. I'm so glad it was Christmas break 🙂